All companies have defined explicit accountability arrangements for their nutrition strategy. Five companies show that the CEO or another senior executive is responsible for the company's nutrition strategy. Kellogg, for instance, includes in its strategy that its approach to nutrition and philanthropy is led by its Senior Vice President, Global Research and Development (who reports to the company's Chief Growth Officer), and its Senior Vice President, Global Corporate Affairs (who reports to the company's CEO).
For the remaining companies, accountability lies with a committee that reports to the Board. For Coca-Cola, the Board's ESG and Public Policy Committee assists in overseeing the company's policies and programs and related risks to the company that concern, among others, progress against the company's ESG goals.
All companies disclose these arrangements except Mars. This is a great improvement since 2018 when disclosure was lacking across the board.
Only two companies link remuneration of the person accountable for their nutrition strategy to nutrition-related objectives, and two companies link remuneration to broader ESG-related objectives, which include nutrition. PepsiCo discloses that the accountable person's renumeration is tied to "continued investment in Pepsi Zero Sugar, which has grown in retail sales compared to prior fiscal year."
Table 1. Oversight mechanisms in place for companies' nutrition strategy and/or programs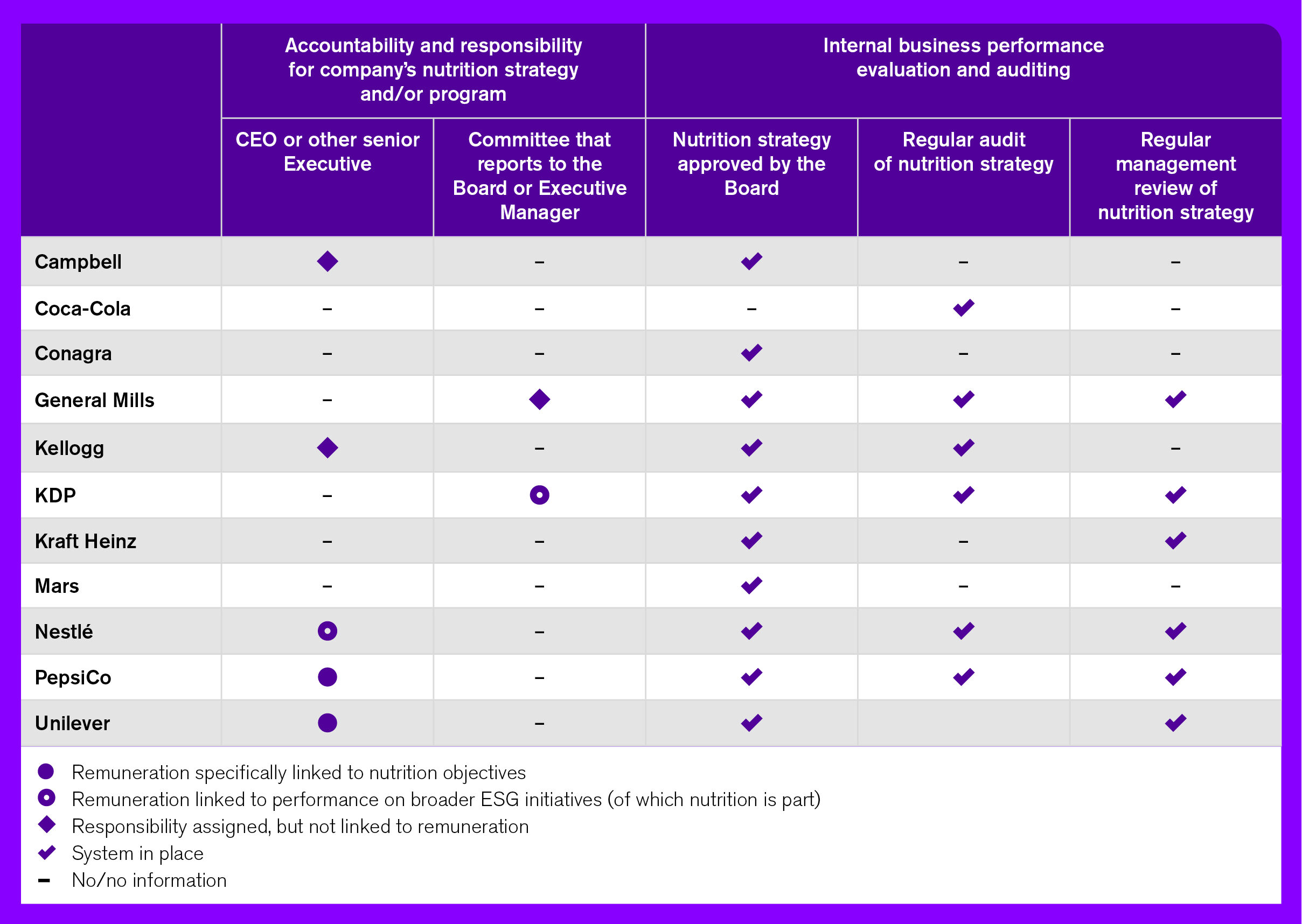 Five companies commit to conducting regular management reviews and internal audits of their nutrition strategies. For the three beverage companies that are part of the BCI (KDP, Coca-Cola, and PepsiCo), progress is audited by a third party. General Mills' 'Bell Institute of Health and Nutrition' reports directly to the Chief Innovation, Technology, and Quality Officer, who approves the overall health and wellness strategy and updates the Public Responsibility Committee of the Board of Directors. On an annual basis, this committee reviews the company's actions in furtherance of its corporate social responsibility and sustainability strategies, plans, and objectives. These include matters concerning nutrition, marketing, and advertising. In addition, the company's nutrition plan is reviewed and audited yearly by the Chief Innovation, Technology, and Quality Officer.