ATNI Convenes Key ESG Stakeholders for Second Policy Fix Webinar
22 June 2023
ATNI Policy Fix Webinar: Nutrition and ESG in Emerging Markets: The Case of India
Can the movement towards transparency and accountability in sustainable finance drive improvements in nutrition? That was the question posed by our Executive Director, Greg S Garrett at the beginning of the latest webinar in ATNI's Policy Fix series, titled: Nutrition and ESG in Emerging Markets: The Case of India.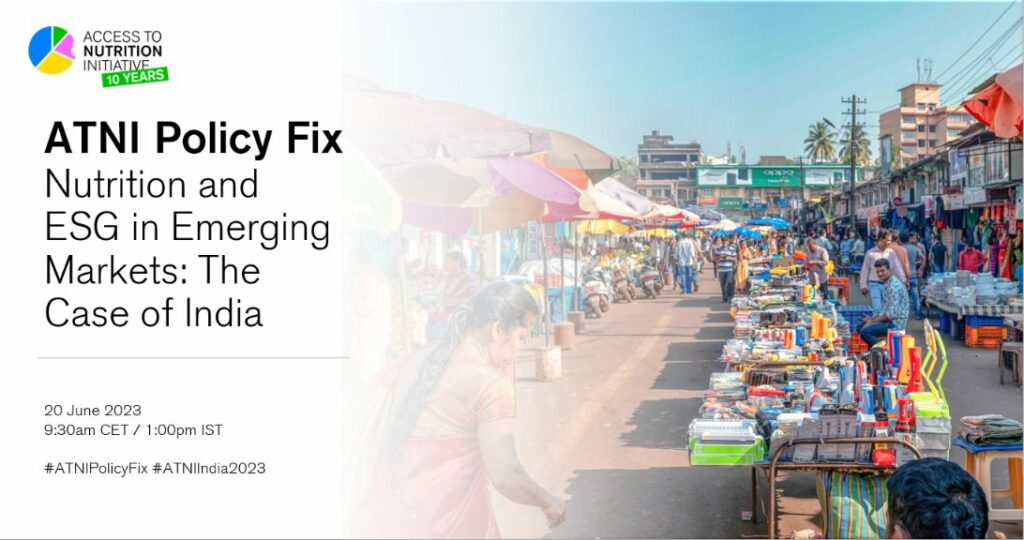 Faced with increasingly unhealthy food environments, and the global double burden of malnutrition, Environmental, Social, and Governance (ESG) investing has the potential to align financial returns with benefits for both society and planet. However, to date ESG frameworks have primarily focused on the environmental and governance aspects, with less on the social, and virtually no metrics for nutrition and health.
Such is the case in India, where the Securities and Exchange Board of India (SEBI) has recently introduced a mandatory ESG reporting framework for the 1000 largest publicly listed entities. While at present nutrition is not included in this framework, this is something ATNI hopes will be introduced in the future, and the framework nonetheless represents an example of India being a leader in driving stronger ESG reporting requirements.
To discuss how India can build a greater nutrition focus within future ESG requirements, while also discussing the wider Indian nutrition and policy landscape, ATNI convened a range of leading figures representing key stakeholder groups:
Keynote Speaker- Dhruv Sharma, Principal Investment Specialist at Invest India
Introductory Speaker- Joseph Martin Chazhoor Francis, Markets Leader, ESG, at PwC
Panel discussion, moderated by Suneera Tandon, Assistant Editor at the Hindustan Times Mint
Vinita Bali, Chairperson for the CII National Committee on Nutrition
Tarun Vij, India Country Director, at GAIN
Janendra Kumar, Investment Specialist at Invest India
Tejash Shah, Lead Analyst at Avendus Spark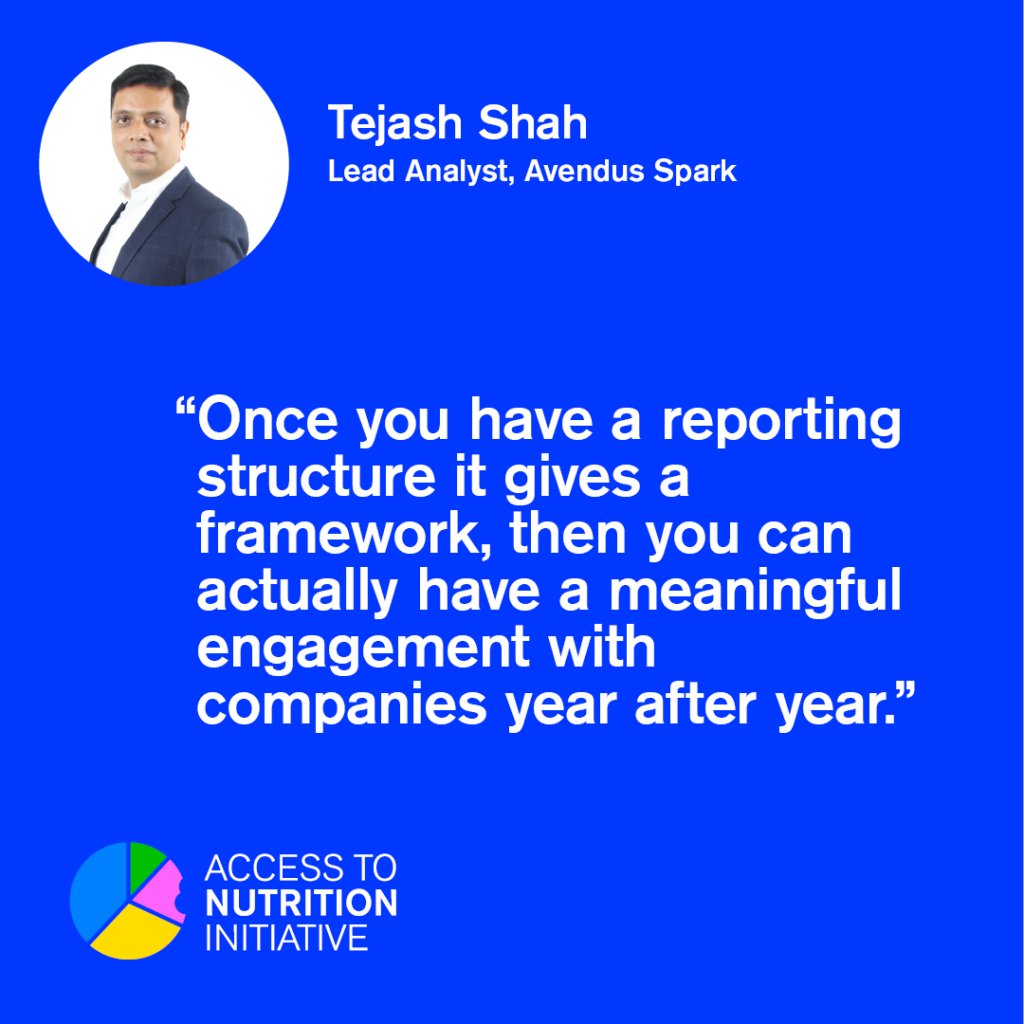 Key takeaways from the event include:
Workforce nutrition is a priority area where companies can drive better nutrition. With a third of our lives spent at the workplace, workforce nutrition can be a key driver across all sectors for improving population level health, while also ensuring consumers are better informed about good nutrition.
To drive change on nutrition, it is crucial to make the business case for nutrition. This will involve visualizing and demonstrating the cost of poor nutrition to business and economic outcomes, including establishing the link between nutrition and productivity. At the same time, putting nutrition on the radar of businesses and investors will require careful consideration of how it can be easily and efficiently integrated into their work alongside their existing priorities.
All stakeholders have a role to play in putting nutrition on the agenda. Business is part of the ecosystem in which we all live. It has a responsibility to operate in a way that benefits all stakeholders. At the same time, informed consumers can drive companies to act through targeting their spending power, and likewise investors can drive change through prioritizing more nutritious portfolios and incorporating human development indicators into their investment assessments. There is no silver bullet – a concerted, nuanced and intersectoral effort is needed.
Change will take time. Successful outcomes will require building the necessary data, awareness, and competence on the relevance of nutrition for ESG. A gradated approach, starting with workforce nutrition reporting and simple self-certifying reporting, and moving towards more robust assurance of sustainability reports would be a practical way forward. Moving towards better reporting structures on nutrition will be beneficial for ensuring investors can meaningfully and objectively engage with companies year after year.
Watch the recording from the webinar here:

This discussion marks the beginning of ATNI's support to increase the profile of nutrition reporting in India. Looking ahead, in November 2023, ATNI will publish the third iteration of its India Index, examining the policies and practices of the top 20 companies in India. Additionally, starting with workforce nutrition, we will look to work in collaboration with other stakeholders to embed nutrition metrics within the new SEBI requirements.
If you would like to find out more about our work, or discuss opportunities for collaboration, please contact us at info@accesstonutrition.org to get in touch.