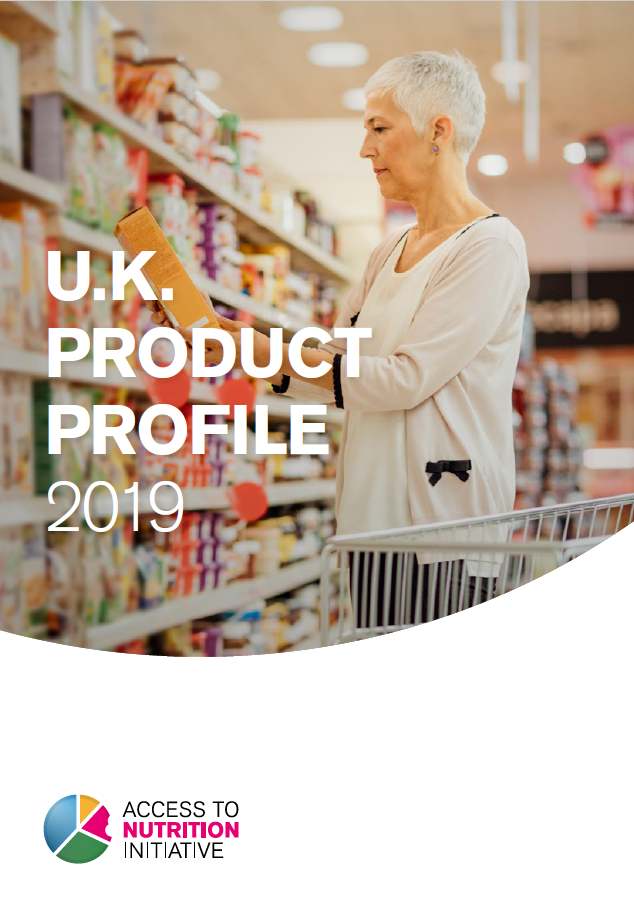 JUST RELEASED: Assessment of the healthiness of packaged foods and beverages in the UK
18 September 2019
The first U.K Product Profile report is released today!
The Access to Nutrition Initiative (ATNI), in partnership with the U.K-based charity ShareAction, is pleased to release the results of an assessment of the nutritional quality of the product portfolios of 18 major food companies in the U.K, representing approximately 50% of packaged foods and beverages sold in the U.K. in 2016.
Approximately 3,000 food and beverage products were assessed, by category, using two different nutrient profiling systems: the Health Star Rating system and the WHO Euro nutrient profile model, which identifies products suitable to be marketed to children. The results are cause for concern but also an opportunity for action:
Two thirds of the products analyzed using the HSR system failed to meet the healthy standard (i.e. HSR rating of 3.5 out of 5).
85% of products assessed were found to be unsuitable to market to children.
The average 'healthiness' score for food products (2.2 out of 5) was lower than that for beverage products (2.8 out of 5).
These results are particularly worrisome when combined with the fact that obesity is a rising public health crisis around the world, with the U.K being no exception. Almost two thirds of adults and an alarming 30% of children aged 2 to 15 are either overweight or obese across the country. Children who are obese are more likely to suffer from serious diet-related illnesses later in life. High levels of such diseases impose profound economic and social costs on society. Unfortunately, the typical U.K diet is made up of too many foods high in added sugars, salt and saturated fats, and does not contain enough fruit, vegetables or wholegrains.
"With over two-thirds of food and drink products classified as unhealthy, the report published today illustrates the extent of the challenge UK manufacturers are facing when it comes to improving the nutritional profile of their portfolio", explained Ellie Chapman, Head of Food and Health at ShareAction. "Confronted by increased scrutiny from regulators and consumers alike, progressive manufacturers taking swift action to improve the nutritional quality of their products are likely to capitalise on new market opportunities while those who don't act fast risk getting stuck in obsolete business models."
Recognizing the role that food environments play in children's health, ShareAction's Healthy Market campaign seeks to monitor the contribution and progress that major food companies are making to address childhood obesity in the U.K. ATNI is pleased to be partnering with Share Action in this work. This report provides, for the first time, a clear and independent overview of the healthiness of a large number of packaged foods and beverages in the U.K. Importantly, this data provides a baseline from which to measure future improvements in product formulation, which institutional investors, policymakers and other stakeholders can use to guide their work.
The reports build on ATNI's mission to drive greater private sector contributions to ending all forms of malnutrition. ATNI has published three Global Indexes since 2013 and Spotlight Indexes for India and the U.S. Each Index includes a Product Profile which provides objective comparable information about the nutrition quality of packaged products made by companies included in the Indexes. This report uses 2016 data for the U.K included originally within ATNI's 2018 Global Index.
Given that only 31% of the products analyzed meet the 'healthy' threshold, it is clear that food and beverage manufacturers selling products in the U.K. market can and must do much more to improve the nutritional quality of their products and put much greater emphasis on increasing the availability of healthy foods and beverages.