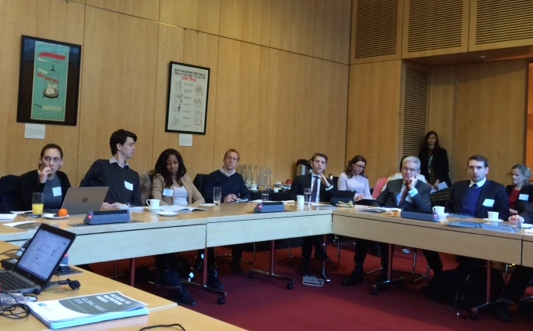 Launch event for 2016 Global Access to Nutrition Index for investors in London
15 January 2016
More than twenty-five investors attended the launch event for the 2016 Global Access to Nutrition Index this morning at the Wellcome Trust in London. Speakers were Dr Lawrence Haddad, Co-Chair of the Global Nutrition Report's Independent Expert Group, Martyn Jones, Investment Analyst at Alliance Trust Investments and Inge Kauer, Executive Director of the Access to Nutrition Foundation.
Dr Lawrence Haddad, Co-Chair of the Global Nutrition Report's Independent Expert Group set the scene by providing an overview of the findings of the second annual Global Nutrition Report (GNR). (Data from the 2013 Global Access to Nutrition Index formed the basis of the chapter on the private sector's nutrition activities.) He emphasized that malnutrition affects every country in the world and that improving nutrition is not only a human rights issue but also one on intergenerational equity. "Malnourished mothers give birth to malnourished children and so the cycle continues" he said. Citing the GNR 2015, Dr Haddad noted that only 39 countries are on course to reduce stunting, and 71 were off course, and that no single country in the world has yet reduced obesity.
This is despite evidence that investing in nutrition programs returns US$16 for every dollar invested: that's a 30 year compound rate of interest of 10% – a return most investors can only dream of.
Dr Haddad closed by saying that one of the biggest barriers to making progress on nutrition is the trust gap between the nutrition community and the private sector. "In order to make progress, we need to build trust" he said. "To do that, we need more transparency from the private sector and disclosure through ATNI-type accountability initiatives and more active monitoring of companies' nutrition activities".
Investment Analyst, Martyn Jones, then provided an excellent insight into how Alliance Trust Investments – a sustainable, responsible investment manager – integrates nutrition factors and trends into their company valuations and stock picks. "We believe that thorough analysis of environmental, social and governance factors (including nutrition and health) leads to more informed investment decisions and ultimately enhances performance for clients" he said.
Their research demonstrates that companies that have more foods in their portfolios that respond to consumers' health and wellness concerns are growing faster than those that continue to focus on traditional foods.
As a result, Alliance Trust Investment invests in companies with strong exposure to health and nutrition themes. Their top large-cap pick is Unilever. "We have a large stake in Unilever across all our global funds because we believe they are at the forefront of all the key trends related to health and nutrition. Unilever is definitely best-in-class in our view".
Questions raised during the event included what could be done through engagement to encourage companies to do more on nutrition. The example of how companies have come together on a voluntary basis in the UK to tackle food waste was suggested as a model for tackling access to nutrition. Another participant said that more support was needed from governments to help to change consumers' perceptions of a healthy diet and to encourage them to demand healthier products and more regulation to create a level-playing field among companies. One investor asked whether companies make higher margins from healthier products and what could be done to make these products more affordable; Martyn Jones replied that it is very difficult to ascertain that due to their lack of disclosure at that level.
Inge Kauer, ATNF's Executive Director then presented the key findings and recommendations of the 2016 Global Index report.
ATNF will present the results of the 2016 Global Index to a large group of other investors on a webinar on Tuesday 19th January and an event in New York on 3rd February 2016. If you are interested in joining the meeting, please email info@accesstonutrition.org