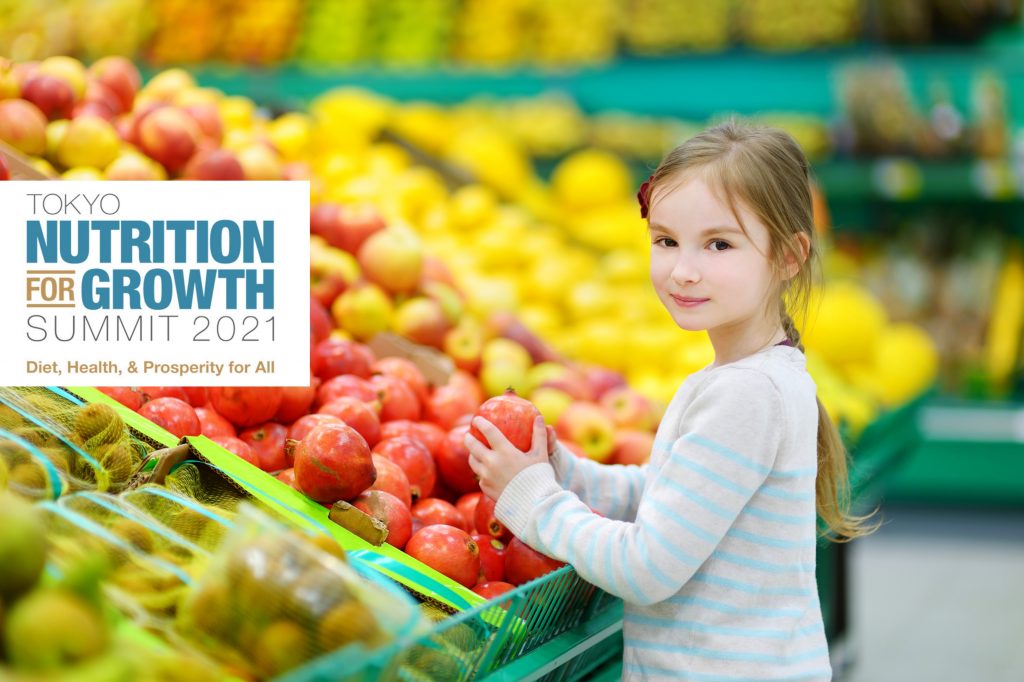 ATNI at the Tokyo Nutrition for Growth Summit 2021
24 November 2021
2021 is the Nutrition Year of Action, with two major summits taking place this year: the UN Food Systems Summit, which took place in September, and the Tokyo Nutrition for Growth (N4G) Summit, which will take place on December 7-8, 2021.
N4G represents a unique opportunity to mobilize progress towards better nutrition across all industries and sectors, including the private sector. The Summit seeks to drive commitments for building stronger, evidence-based nutrition policies, increasing finance for nutrition, and aligning actions across sectors and stakeholders, with particular attention to three core areas and two cross-cutting themes:
Health: Making nutrition integral to Universal Health Coverage UHC
Food: Building food systems that promote healthy diets and nutrition
Resilience: Addressing malnutrition effectively in fragile and conflict-affected contexts
Cross-cutting areas: Promoting data-driven accountability and securing new investment and driving innovation in nutrition financing
Many of the Summit's themes align with Access to Nutrition Initiative's (ATNI) core mission – to drive change through delivering accountability tools that track the food industry's attempts to tackle malnutrition at the local and global levels.
Since 2019, ATNI has been involved in the preparations of the N4G as an advisor to the Japanese government and as a co-chair of the Accountability Thematic Working Group. It is co-hosting and speaking in 8 official N4G Summit side events. This brief presents an overview of the events that ATNI is organizing, co-hosting and supporting.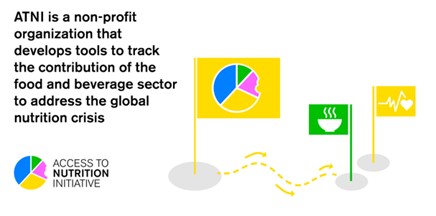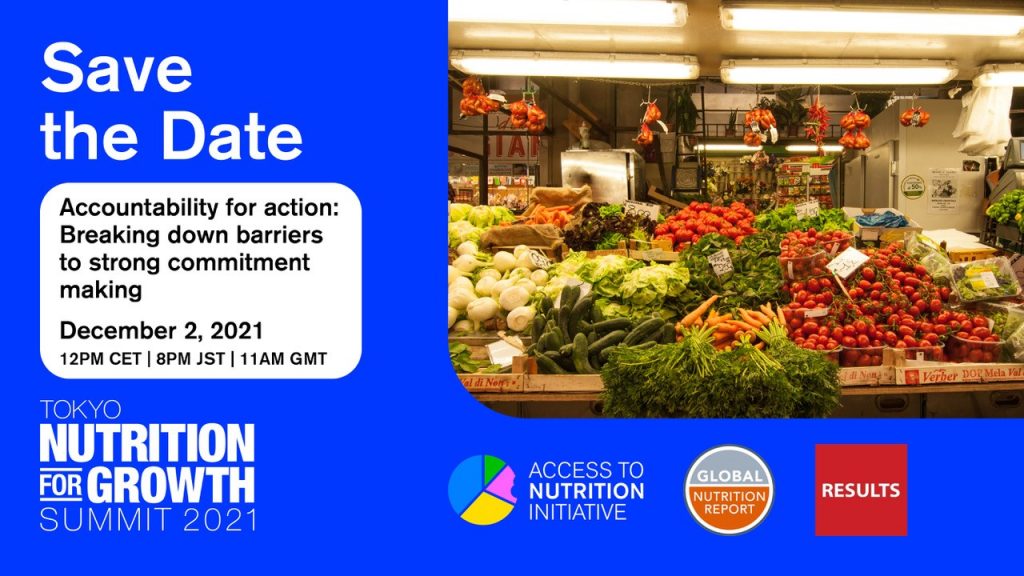 2 December 2021, 12:00pm CET – Accountability for action: Breaking down barriers to strong commitment making
This event will discuss the importance of accountability for driving progress on nutrition.
6 December 2021, 2:00pm CET – Responsible Business Pledge for Better Nutrition: Business commits to tackling malnutrition
ATNI Executive Director, Inge Kauer, will moderate a discussion on private sector commitments for addressing malnutrition within the framework of the Responsible Business Pledge for Better Nutrition.
December 7 2021, 9:30am CET – Building sustainable healthy diets and food systems: Aiming to improve nutritional literacy that leads to behavior modification
The event outlines the case for accelerating corporate efforts to improve nutrition in Japan.
Registration link available soon.
16 December 2021, 12:00pm CET – Action on accountability: Lessons learnt and the way forward beyond the N4G Summit
This event will host a discussion on the critical role of accountability in driving forward progress for nutrition both during and after the N4G Summit.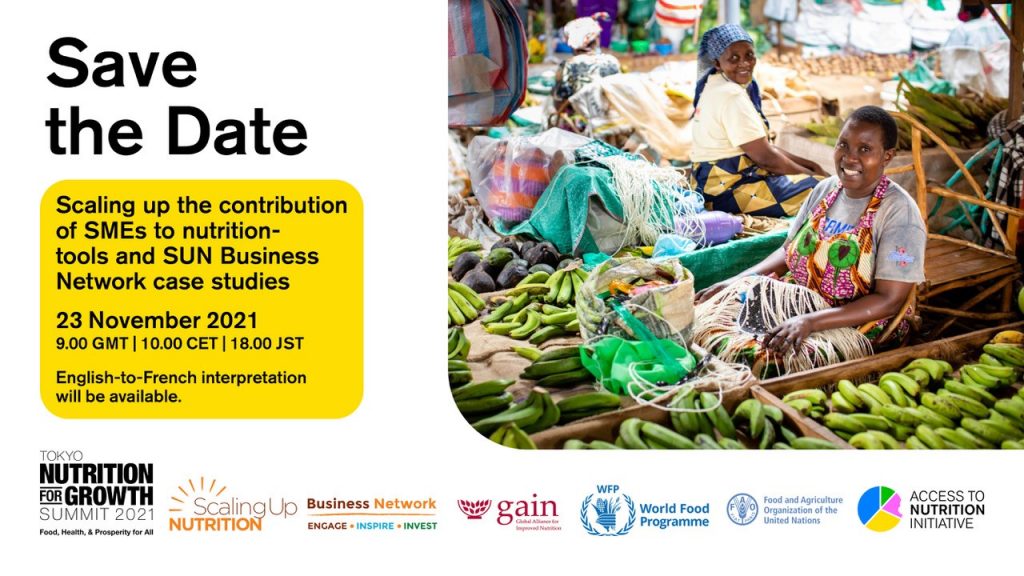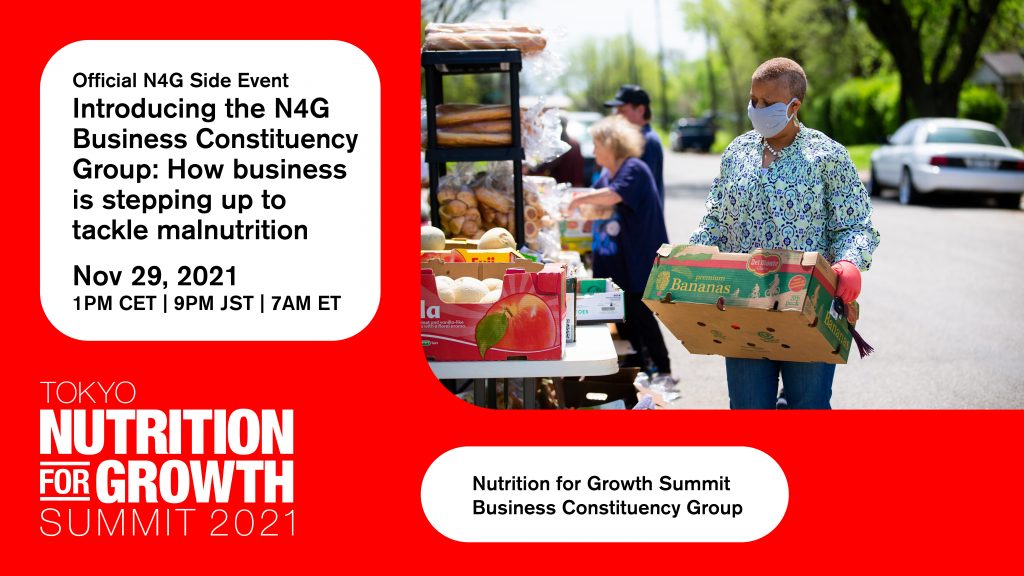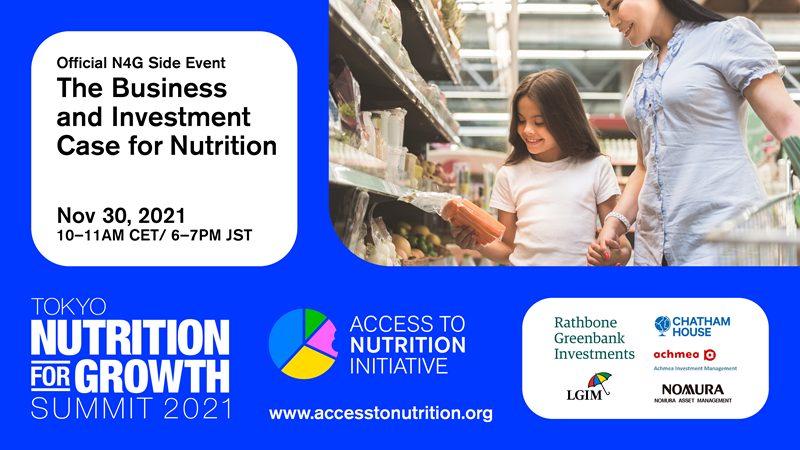 16 November – SMART private sector workforce nutrition commitments: Leveraging the workplace to bring improved nutrition to millions of employees
A deep dive into benchmarking tools for workforce nutrition.
Access the recording of the event

23 November- Scaling up the contribution of SMEs to nutrition – tools and SUN Business Network case studies
This event presented learning tools of organizations supporting SMEs and nutrition and case studies by SMEs.
Access the recording of the event

25 November 2021, 10:00am CET – Private Sector Nutrition Action: New Data to Inform Private Sector Commitments on Supply Chain Workforce Nutrition
Key leaders/experts will launch new data from ATNI on workforce nutrition.
Access the recording of the event

29 November 2021, 1:00pm CET – Introducing the N4G Business Constituency Group: How business is stepping up to tackle malnutrition
Join this webinar to learn about how the private sector is taking a leadership position to address malnutrition.
A recording of the event will be made available soon.
30 November 2021, 10:00am CET – The Business and Investment Case for Nutrition
Health and nutrition are relevant ESG issues for institutional investors globally, as outlined by a new ATNI report.
A recording of the event will be made available soon.