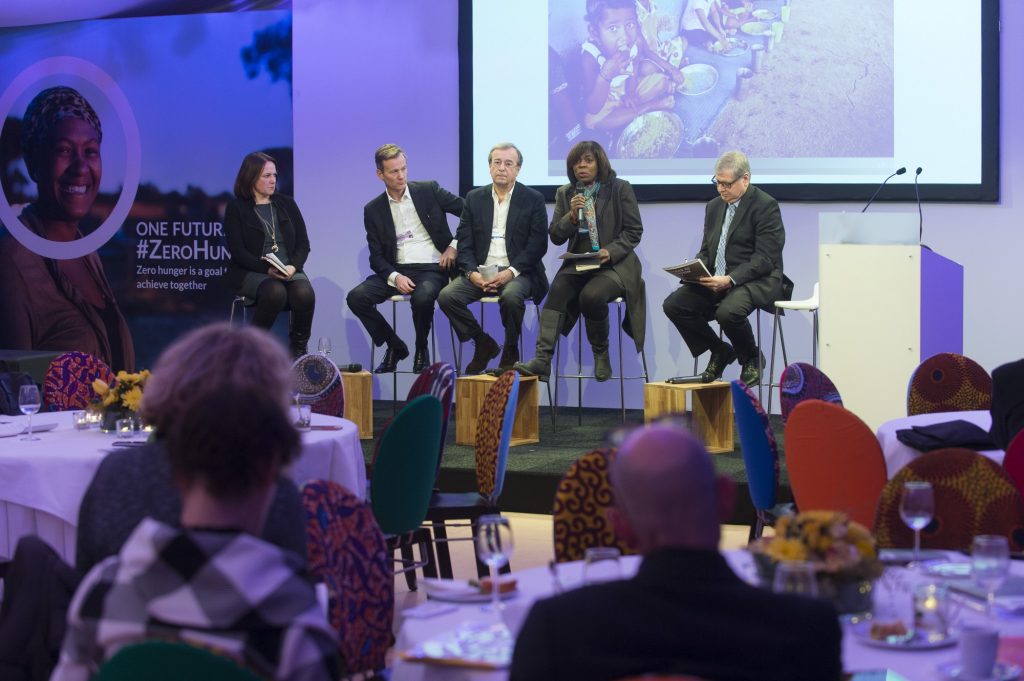 Where should companies be in 2018? ATNI 2016 panel discussion Davos
21 January 2016
Representatives of companies, civil society organizations, government and research, joined the panel discussion on the results of the Access to Nutrition Index 2016 and the role of companies in nutrition in the World Food Program Tent at the World Economic Forum in Davos. Inge Kauer (ATNF), Fokko Wientjes (DSM), Luis Cantrarell (Nestlé), and Ertharin Cousin (WFP) shared their vision on the role of the private sector in fighting malnutrition and how the impact could be accelerated by engaging more companies.
Inge Kauer kicked off by congratulating the top 3 companies, Unilever, Nestlé and Danone, with their ranking, but also urged the industry to step up their efforts to tackle the mounting nutrition crisis. Fokko Wientjes underlined the lacking knowledge of consumers and importance of getting them on board. Ertharin Cousin strongly agreed with DSM. She applauded the ATNI2016 and asked to take the knowledge and key messages beyond the nutrition community to governments and consumers. Gerda Verburg (ambassador of The Netherlands to the FAO), who was sitting in the audience, strongly plead for companies putting their hands together and plan for action with civil society organizations.
The debate ended with the question where we want companies to be in 2018, when the third Global Index will be launched. Luis Cantrarell (Nestlé) expressed his ambition to be number one in the ranking in 2018 and called for more companies to get involved in bringing nutrition to a healthier level. Inge Kauer confirmed that ATNF will bring the knowledge that we now have to the table of more industry associations and more companies, but also to more investors, academics and, last but certainly not least, governments.
Key take away of the day of moderator Marc van Ameringen (GAIN) was 'the need to get the narrative of the importance of healthy food for all right'.