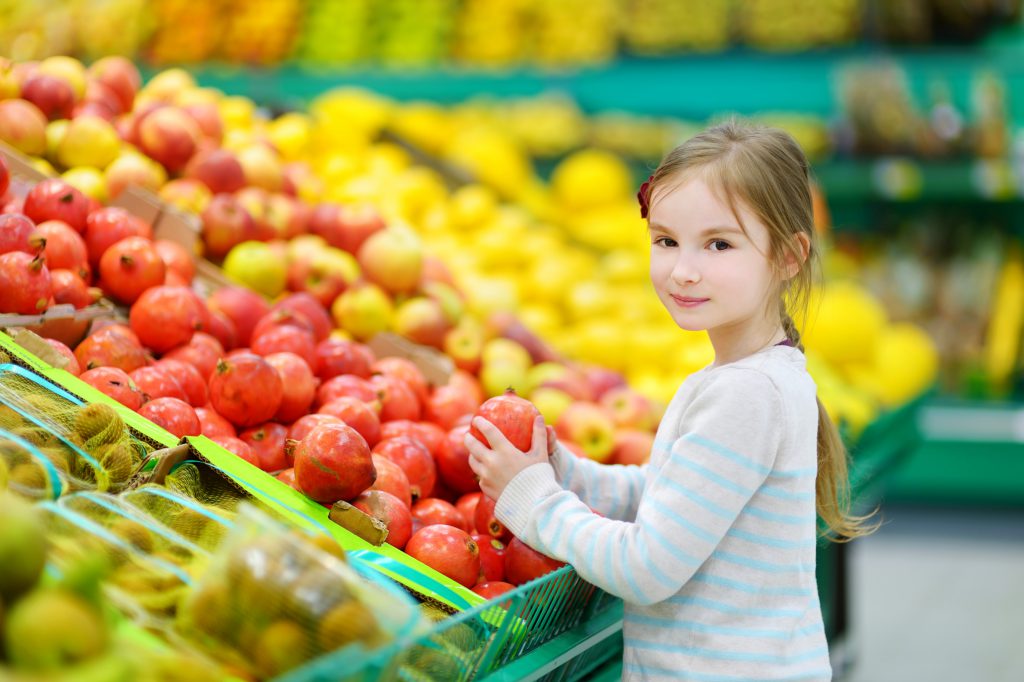 Plating Up Progress 2020: Progress is on the table
13 November 2020
The UK, like many other countries in the world, is facing a health and food crisis.
By Martina Asquini
As outlined in a policy paper by the Department for Health and Social Care, it is estimated that overweight and obesity related conditions cost the NHS over £6 billion a year across the four nations. This year, the Covid-19 pandemic has put public health at the top of political agendas, pushing the UK government to announce a new obesity strategy in July 2020.
This formally acknowledges the role played by obesogenic food environments in shaping consumer choices and announces a series of measures which will be implemented in the coming months, including a commitment to work with industry through the Government's reduction and reformulation programmes. Important as it might be in addressing the state of poor diets in the UK, the new obesity strategy has been criticised by the media for not addressing underlying structural causes of nutrition insecurity such as poverty and poor education. Diets in the UK are not fit for purpose.
ATNI's partnership with ShareAction
ATNI started playing its part in tackling the UK's diet-driven health challenges in 2019, when it partnered with ShareAction and its Healthy Markets Campaign. In September 2019, ATNI published the UK Product Profile report, rating and tracking the contribution made by major UK food manufacturers to address the nation's food and health crises. The report found that over two thirds of products sold are classified as unhealthy, i.e. a Health Star Rating (HSR) was less than 3.5 out of 5 stars.
In March 2020, ATNI also published the UK Supermarket Spotlight, the first report to review the disclosure on nutrition, diets and health by the 10 largest UK food retailers (Aldi, Asda, Coop, Iceland, Lidl, Marks & Spencer, Morrisons, Sainsbury's, Tesco, and Waitrose). This report revealed that no company consistently and formally reports on the indicators used for the assessment – none of the retailers thus achieved a grade of A, B or C. It is clear that the food industry can play a much greater role in promoting a shift towards healthier diets. Through its partnership with ShareAction, ATNI is currently working on its first full UK Retailer Index, to be published in early 2022 and to cover not only retailers' reporting, but also an assessment based on their performance.
Results of ATNI's reports as well as ATNI's methodology have been used by organisations working on food and health benchmarking initiatives. Among these there is Plating Up Progress, a collaborative project started in 2018 by the Food Foundation and the Food and Climate Research Network, which aims to drive food sector businesses in the UK to promote the transition to sustainable food systems and healthy diets. The 2020 Plating Up Progress report uses information available in the public domain through companies' reports and websites, as well as data and information gathered by other benchmarking mechanisms such as ATNI.
In this 2020 analysis, Plating Up Progress investigates targets and performance of 26 major UK-operating food businesses, covering supermarkets (the same ones ATNI assessed ), quick-service restaurants, contract caterers, and casual dining and food chains. For its project, the Food Foundation decided to focus on consumer-facing operations as these "are in a unique position to influence the required transitions in consumption and production, being both gatekeepers to our diets and the funnel through which most commercially produced food is channelled." This statement strongly resonates with ATNI's aim to drive private sector's performance on healthy, affordable diets through evidence-based accountability tools.
Plating Up Progress 2020
Plating Up Progress assesses companies on a wide range of issues, which are subdivided into three categories aligning with key topics in the World Benchmarking Alliance's Food and Agriculture Benchmark.
After publishing two in-depth reports in 2019 (Part 1 and Part 2), results of the 2020 analysis have been displayed through an interactive dashboard (right). The section on retailers includes not only a graphic display of individual company performances, but also a traffic light scorecard which allows comparison of performance across categories as well as companies.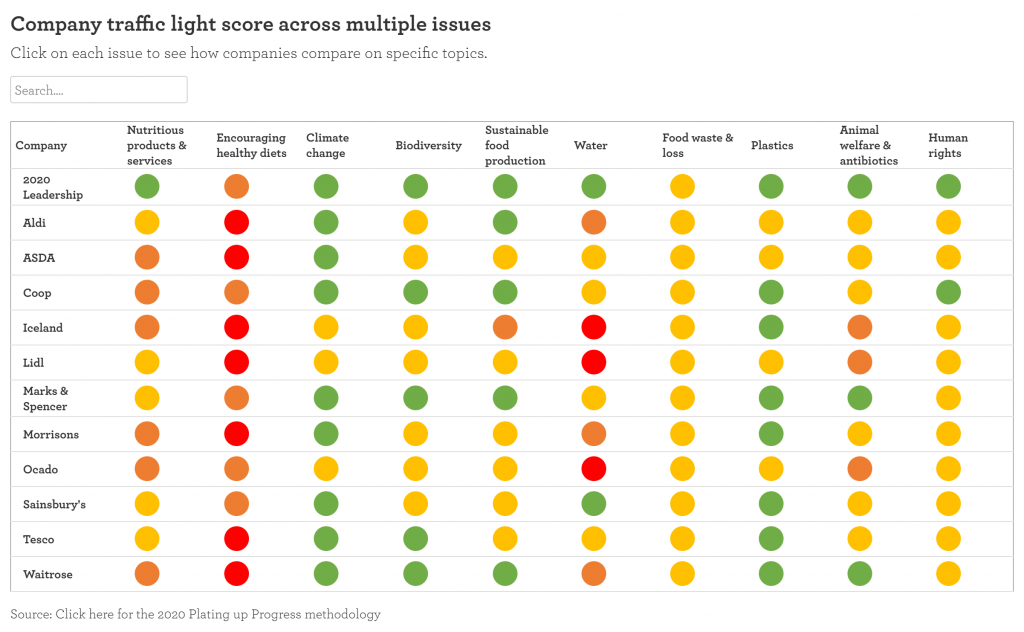 The output of Plating Up Progress 2020, perhaps most importantly, also includes a 'leadership' profile outlining best performances across the sector and categories. This is an extremely useful tool for stakeholders, especially investors and policymakers, to establish achievable targets and goals to drive the transition towards more sustainable food systems and healthy diets.
As emphasised in part one of the UK National Food Strategy published earlier this year, 'there is a lot of work to do if we are to rebuild a food system that delivers safe, healthy, affordable food to everyone […] This work must start now.' ATNI hopes that benchmarking initiatives such as Plating Up Progress, as well as ATNI's forthcoming 2022 UK Retailer Index, will inspire and guide the food industry with this task.
Twitter responses