ATNI considers a full nutrient profiling model (NPM) those models which calculate the overall nutritional quality scores for each product or define extensive product category-specific nutrition criteria. ATNI also credits companies which use a nutrient-specific model, which could be considered a precursor to a full NPM. These models for example, define levels of specific nutrients and rates them as high, medium, or lor, or above or below a threshold, but do not calculate overall nutritional quality, therefore do not result in a summary indicator.
What has changed in the Nutrient Profiling models that companies are using?
Fourteen companies are using some sort of NPM, compared to 13 in 2018. Since 2018, Kraft Heinz and Ajinomoto have adopted a new formal NPM, while in 2020, Kellogg adopted a full internal NPM (that calculates overall scores of the nutritional quality of its products including both positive and negative nutrients), and Grupo Bimbo published new guidelines adapted from a government-endorsed system. Unilever informed ATNI is in the process of updating its NPM, primarily adding thresholds for positive nutrients.
Companies that have not yet adopted a NPM should be transparent on their efforts to improve the nutritional quality of their products. It is important to note that some companies which have not adopted a company specific NPM, do make reference to using other existing criteria to define 'healthy' products (e.g. FDA definition of 'healthy').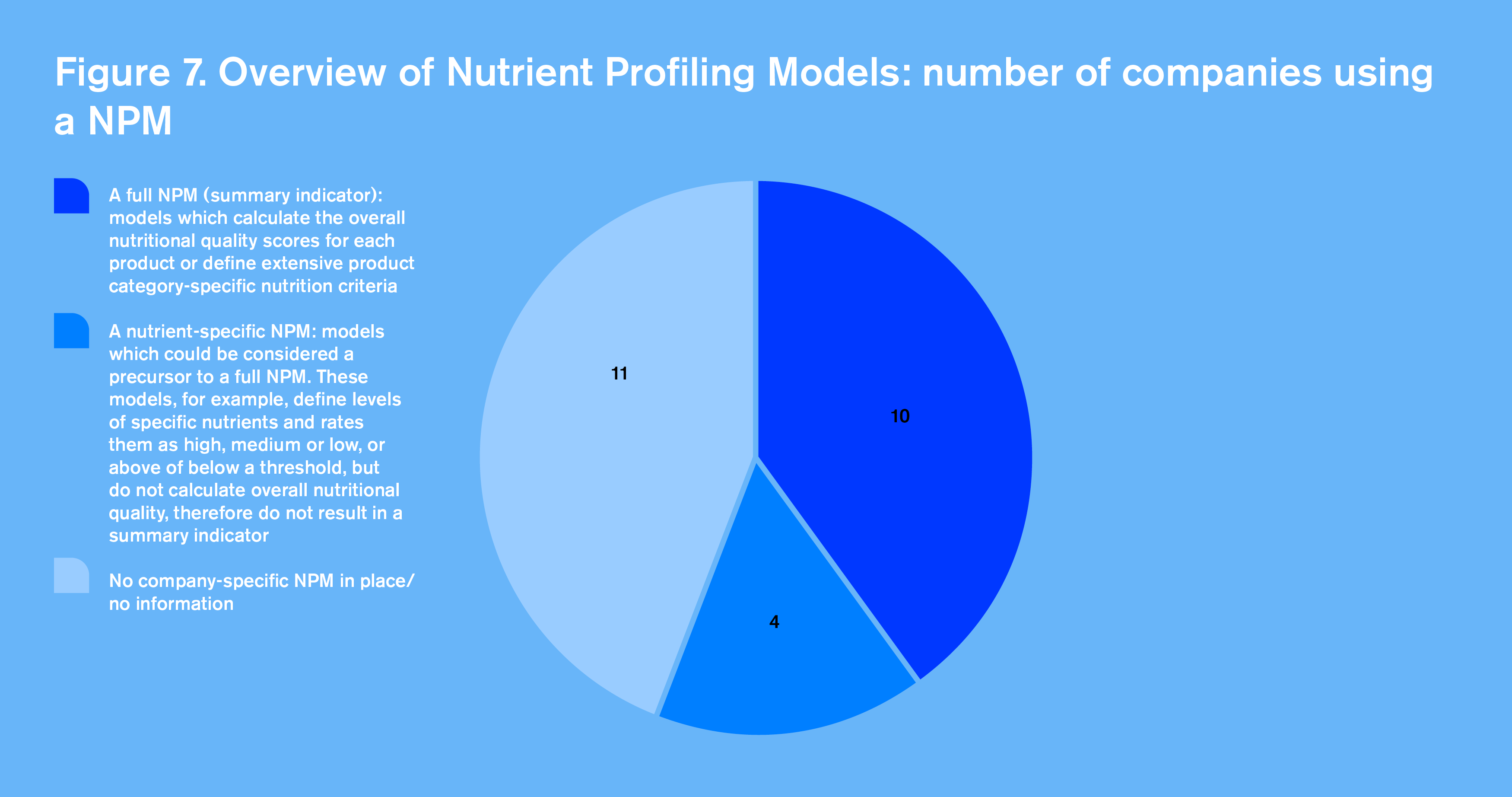 More companies are utilizing independent NPMs to evaluate the nutritional quality of their products. FrieslandCampina, for example, aligns criteria for trans-fat, saturated fat, added sugar, and sodium from Choices International, which was developed by independent scientists. Kellogg has started using an independent government-endorsed NPM, the Nutri-score, as a tool to (re)formulate products, and Nestlé has begun using the HSR to evaluate the nutritional quality of its portfolio, and is in the process of evolving its NPM to reflect the HSR.
Eight out of the fourteen companies that apply some sort of NPM cover all products and product categories, indicating there is still significant scope to ensure companies improve their offerings throughout their entire portfolios.
To what extent do companies commit to fortifying healthy products?
ATNI encourages companies to only fortify foods in accordance with relevant guidance (Codex/FAO) and select products or categories with underlying nutritional quality (e.g., meeting objective criteria, in addition to avoiding misleading consumers with claims which can make fortified products appear healthier options — see section on Labeling, chapter F).
See Category F
Six companies (Danone, FrieslandCampina, Mondelez, PepsiCo, Arla, and Kellogg) commit to only fortify products of high underlying nutritional quality or meeting certain nutrition criteria — two more than 2018.
Two companies make an explicit commitment to only fortify products meeting nutrition criteria in its NPM. However, this information is not available in the public domain.
Danone is the only company to make an explicit and publicly available commitment. In its 2017 'Policy On Micronutrient Fortification', Danone includes the statement: "The product chosen for fortification must be of good underlying nutritional quality and compatible with a daily consumption. For this reason, only products belonging to Danone 'healthy categories (as listed in Danone Nutritional Targets)' are considered for fortification."
To what extent do companies align their fortification approaches to international guidance?
Nine companies were found to have a formal statement indicating their approach to fortification of products aimed at addressing undernutrition is based on international guidance on fortification (i.e. Codex CAC/GL 9-1987 and WHO/FAO Guidelines on Food Fortification with Micronutrients). In 2018 only four companies assessed did so. Only three companies – PepsiCo, Nestlé and Mondelez – were found to publicly disclose this approach. Generally, ATNI did not find evidence of companies committing to also use these international standards for their fortification approaches when and where local regulations do not exist.
As demand for products that allegedly would have immunity benefits has increased during the COVID-19 crisis, the availability of accurate and evidence-based nutrition information for all packaged foods, including those that are fortified, is increasingly important. Companies must ensure that fortified products which do not meet nutrition standards, avoid carrying health claims (more on this can be found in Category F, on labelling).
See Category F
Methodology: Healthy multiplier results
In the Global Index 2021 methodology, a healthy multiplier is applied to any scores for commitment or performance indicators relating to 'healthy' products. The multiplier is derived from the company's score on 'Category B3: Defining healthy and affordable products', and ranges between 0.5 (adjusting the underlying score) and 1 (having no effect on the underlying score).
Unilever is the only company that achieves a score of 7.5 or more (out of 10) in criterion B3, and therefore the healthy multiplier is equal to 1. The table below shows that for other companies with less robust NPMs a healthy multiplier is applied impacting indicators in the methodology that refer to 'healthy' products.

Recommendations B3
To improve and accelerate efforts to market nutritious products that support healthy diets, leading food and beverage manufacturers are encouraged to:
Adopt an NPM (preferably a government-endorsed model) and utilize it to define which products are considered healthy. The NPM should cover all relevant product categories and asses both positive and negative food components.
Validate internal NPM-based definition of healthy products with external standards (HSR >=3.5 healthy threshold).
Improve transparency on research and other investments used to develop products designed to help address malnutrition.
Publish a fortification policy and commit to only fortifying products of high underlying nutritional quality (i.e. products that meet objective nutrition criteria, for example as in the company's NPM). For fortification of foods and beverages, companies should align at minimum with relevant Codex Alimentarius standards (General Principles for the Addition of Essential Nutrients to Foods) and/or WHO/FAO (Guidelines on Food Fortification with Micronutrients) guidance.