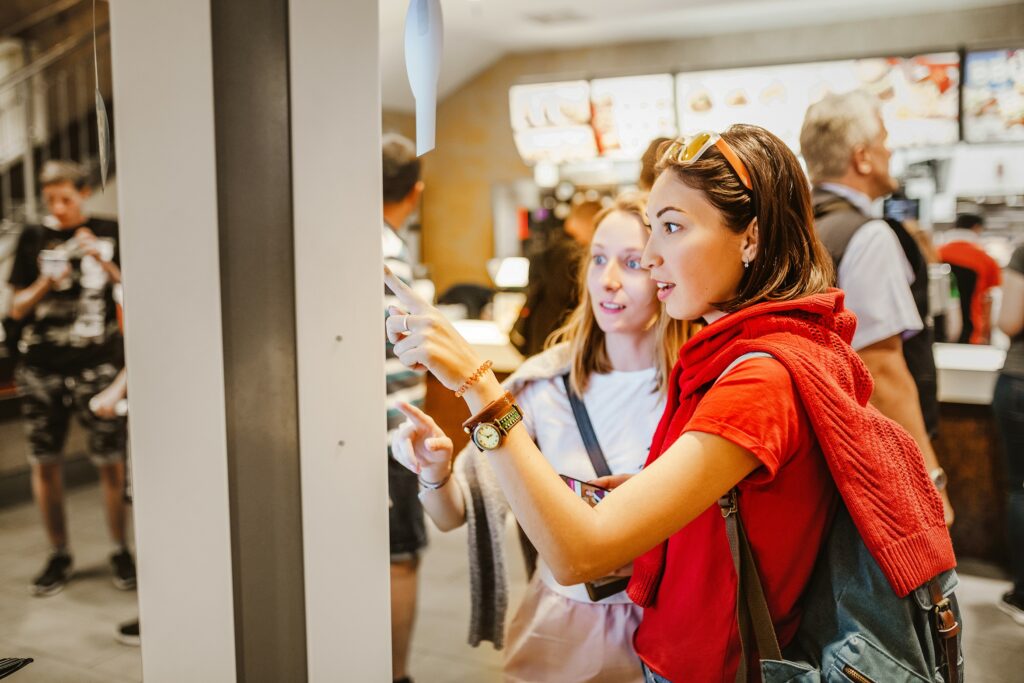 ATNI publishes its first research on the out-of-home (OOH) food sector in the UK
10 November 2022
The scope of the problem
The UK is facing a nutrition challenge: poor diet is responsible for around one in seven of all deaths in the UK.
The current cost-of-living crisis is putting ever greater pressure on family budgets, with over a quarter of families with children experiencing food insecurity, according to statistics published in October 2022.
UK government policy has reacted to this nutrition crisis, both through legislation – for example, requiring compulsory calorie labelling by larger restaurant chains – and through the provision of voluntary guidelines to encourage the food industry, including the OOH food sector, to reduce salt, sugar and calories in their products.
In this context more than ever, companies – and every actor in the UK food landscape – have a role to play to promote better nutrition for all.
The food industry's role
Food companies, from manufacturers to retailers to out of home businesses have a role to play in achieving this goal. Today, around a quarter of energy intake in the UK comes from food eaten out of the home, over half of which is purchased from the large chains. At the same time, about 30% of spend on food in 2019/20 was on food eaten out of the home, and meals eaten out of the home tend to be associated with higher energy, fat and salt intake.
A 2022 study found that a high rate of eating out of home among adults led to poorer quality of diet, particularly higher intakes of calories, fats, sugar and salt, and lower intake of fibre, fruit and vegetables and micronutrients.
A study published in 2022 suggests that, among the large chains, almost a quarter of the individual menu items assessed exceeded 600 kcal .
There are also differences according to socioeconomic status. Local authorities with higher levels of deprivation have greater density of fast-food outlets.
The evidence is clear.
The current state of play
To hold companies to account, ATNI – funded by its partner ShareAction – assessed 10 of the largest publicly listed players in the OOH food sector in the UK, including well-known brands (burgers, bakery, pizzas and coffee) and, where applicable, their parent companies.
It is the first time that the Access to Nutrition Initiative (ATNI) has researched the OOH food sector in any country in the world. The research looked across six nutrition-related Topics, developed in consultation with UK experts and adapted from the Categories used in ATNI's methodology.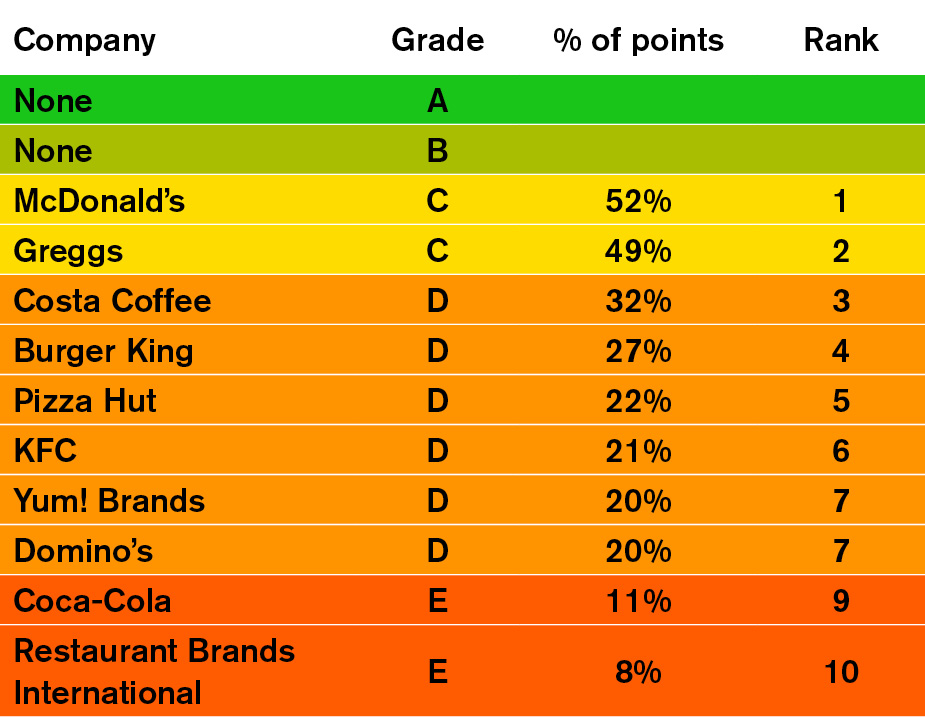 The key findings
The key findings of the research are:
Overall, where A represents best reporting (scoring above 80%) and E representing the lowest level of reporting (under 20%), no company received more than a C grade (achieved by Greggs and McDonald's) for its reporting
All companies have scope to explain more fully the extent of the action they are taking, across all the Topics assessed
Current reporting gives the impression that nutrition and health are not at the centre of governance and action of the companies
All companies assessed use their own definitions of healthy, rather than the government endorsed nutrient profiling model
No companies have made commitments to addressing the price and affordability of their healthier products relative to their less healthy products
A call to action
This research highlights that there are strong imperatives from government, investors and the public for the OOH food sector companies to report comprehensively on how they are helping to address the UK's diet-related health challenges, particularly at a time of a cost-of-living crisis.
The findings of the Action Research suggest that the companies assessed do recognise that they have a role to play. However, it also found a clear need for the OOH food sector to provide more structured and comprehensive reporting on all aspects of their efforts on governance, reformulation, marketing, labelling and engagement with stakeholders.
More extensive and comprehensive research, assessing a larger number of companies, would be welcomed in the future, particularly a deeper dive that goes beyond public disclosure, and covering more than just the UK market, as this would enable a more comprehensive assessment of companies' actions and their impact on public health.