Second U.K. Product Profile 2021
23 September 2021
Today, on the 23rd September 2021, ATNI published its second U.K. Product Profile 2021. The launch of the report coincides with the UN Food Systems Summit – a pivotal event in this Nutrition Year of Action – signaling a call to action for all food system actors, including the private sector, to do as much as possible to improve diets and health for all, and deliver progress on the Sustainable Development Goals. This report also builds momentum supporting the dialogue around the recently published U.K. National Food Strategy, with its ambitious proposals to tackle obesity and diet related ill-health. 
Read the full report here
The U.K., like many other countries, continues to fight its health crisis, which is driven in part by poor diets and social inequalities: approximately two in three adults and one in three children are overweight in the U.K. While COVID-19 has sparked an increased interest in the role of nutritious diets and health in obesity prevention, it is increasingly clear that a concerted effort is needed from all parties involved in the food system to improve the nutritional quality of packaged foods and beverages sold in the U.K. Food and beverage manufacturers can play an integral role in this process through improving the nutritional quality of their products and portfolios.  
With support from ShareAction through a fund from Impact on Urban Health, part of Guy's & St Thomas' Foundation, ATNI has rated the contribution made by major U.K. food manufacturers to address the U.K.'s diet-driven health crises, and has tracked that contribution over time by assessing the healthiness of their product portfolios. 
Report Summary
The U.K. Product Profile 2021 is the second of its kind, following the first U.K. Product Profile published in 2019.  
The 2021 report assessed the nutritional quality of more than 4,000 products from 16 of the world's largest food and beverage manufacturers active in the U.K., using the data from the 2021 Global Access to Nutrition Index. The products analysed accounted for approximately 50% of total U.K. retail sales of manufacturer brands' packaged foods and beverages in 2019. Like the previous iteration, two nutrient profiling models (NPMs) were used: the Health Star Rating (HSR) system to assess the healthiness of product portfolios; and the WHO Europe model to assess products' suitability to be marketed to children.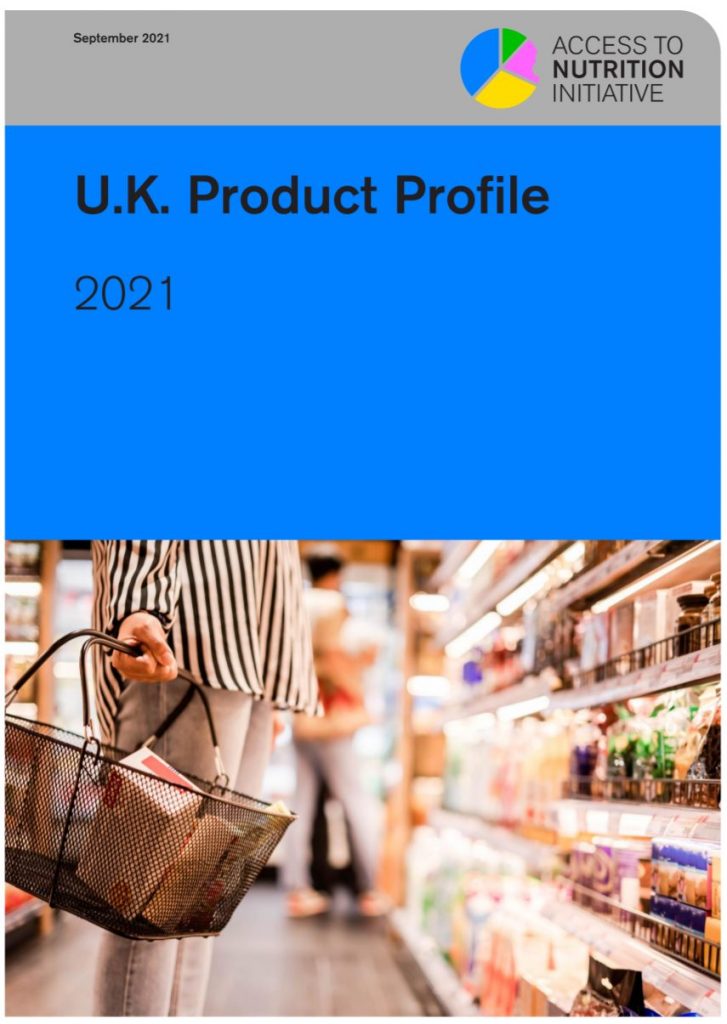 Key Findings
Findings from the U.K. Product Profile 2021 reveal that the average mean HSR for all products assessed is only 2.2 out of 5 stars, similar to the findings of the U.K. Product Profile 2019. Products need to reach or exceed a threshold of 3.5 out of 5 stars to be considered 'healthy', and only 32% of the products assessed (1,337 out of 4,207) met this healthy threshold. Results clearly establish that companies need to do more to improve the nutritional quality of their product portfolios in the U.K.
Despite these findings, the report has revealed that even within a relatively short period of time, 
manufacturers can make progress through measures that introduce healthier product varieties in their portfolios. Sales from 'healthy' products increased from 22% in 2019 to 29% in 2021, and the sales-weighted mean HSR for nine out of the 16 companies assessed also increased. For example, Danone's sales-weighted mean HSR improved the most by 0.7 stars (from 3.3 to 4.0), driven by changes in the dairy product mix, and by a larger proportion of total U.K sales deriving from dairy products. The company that improved the most in the overall ranking was PepsiCo, moving up three places, as the mean HSR for some of its product categories improved due to changes in the product mix.  
Implications and Recommendations
As this report coincides with a pivotal year for action on nutrition both globally and in the U.K., this timing offers great opportunities for companies, policymakers, investors, and civil society to publicly commit to bold new actions for health and nutrition at the global and local level.  
ATNI urges food and beverage manufacturers in the U.K. to: 
Accelerate measures that introduce more healthy product variation in portfolios 

 
Adopt a robust nutrient profiling model

 to guide (re)formulation efforts and benchmark performance

 
Define U.K.-specific portfolio-level targets

 

and i

mprove accountability

 through better annual reporting by disclosing the proportion of sales derived from healthy foods

 
Re-direct investments towards marketing of healthier products

 
Do not market products that are unsuitable to be marketed to children, as assessed by the WHO Europe model or equivalent
Major risks and opportunities related to nutrition remain in the food and beverage sector, and institutional investors can be a major force for good. ATNI calls on investors to: 
Carefully assess and factor in risks and opportunities related to nutrition

 
Use 

independent product assessments and nutrition indexes to evaluate performance on nutrition over time and across companies 

 
Engage 

with

 food and beverage manufacturers 

to demand urgent action on improving the healthiness of products and sales of healthy products

 
Independent analysis on the healthiness of companies' product portfolios using a consistent metric is important to monitor changes over time and hold companies to account. 

ATNI hopes that food manufacturers, NGOs, investors, government will use this report to benchmark performance and accelerate action to ensure all communities in the U.K. can more easily access nutritious foods that support healthy diets
Read more on ATNI's work with investors
Follow us on Twitter for the latest news on this project and more, and visit the project page for further information.