Webinar: Nutrition responses from food and beverage companies to the pandemic
25 November 2020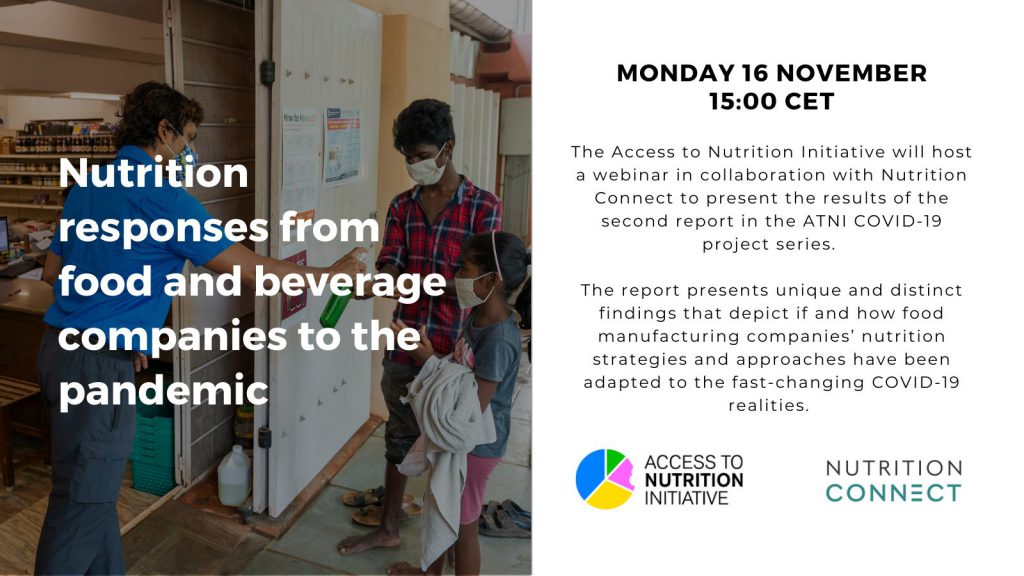 On Monday November 16 the Access to Nutrition Initiative hosted a webinar in collaboration with Nutrition Connect as part of the ATNI Covid-19 Project series. The webinar – 'Nutrition responses from food and beverage companies to the pandemic' – saw all stakeholders (NGO/CSOs, investors, companies, policymakers, academics etc.) interested in how Covid-19 is impacting the food industry's actions and nutrition outcomes globally participate in a stimulating discussion. After an introduction about ATNI Covid-19 Project series, the following topics were covered:
The developing Covid-19/ nutrition nexus
Why ATNI is monitoring company responses to the pandemic
ATNI's approach and research process
Focus for each report
Key findings so far
Responses to project so far
Discussion: Responses from panelists and Q&A
Before starting a Q&A session, the following three panellists provided the audience with their views on the challenges faced and the responses implemented by the industry:
Lucy Sullivan, Executive Director at Feed the Truth
Laurene Aubert, Manager of SUN Business Network's Global Partnerships and GAIN Nutrition for Growth Lead
Inge Kauer, Executive Director at ATNI
We are more committed than ever to supporting the food industry's responses to addressing the world's nutrition challenges, particularly in the difficult context of a global pandemic. We recognize and are motivated by the fact that we are at the start of what is a unique and urgent opportunity to reorient the food system towards a more healthy, equitable and sustainable future. We look forward to seeing you at the webinar and working with you towards this ambitious goal.
The webinar slide deck can be viewed here. To view the full webinar recording, please visit: https://nutritionconnect.org/webinar-ATNI-covid19.