ATNI Covid-19 Project
Project
Monitoring nutrition responses from food and beverage companies to the Covid-19 pandemic.
The Access to Nutrition Initiative (ATNI) is committed to improving the food industry's contribution to addressing the world's nutrition challenges, leveraging its power to provide accessible and affordable healthy food to all. This accountability is essential during the Covid-19 pandemic, as food systems and families struggle to adapt to unprecedented circumstances – and it is also the start of a unique and urgent opportunity to reorient the food system to a more healthy, equitable and sustainable future: a chance for the world to build back better. ATNI has developed a Framework to identify action (and inaction) by food and beverage manufacturers in response to the crisis, adding an explicit Covid-19 lens to ATNI's existing assessment of companies.
On Thursday 17 July, ATNI published the Framework and released the first in the ATNI Covid-19 report series: the report presents the Framework and it's aims.
Download the first quarterly report     

ATNI published the second report in the series on World Food Day 2020 (16 October) which sets out the company assessments and overall analysis.
Objectives of project
Analysis done as part of this project will enable stakeholders – including companies, investors, policymakers, NGOs, citizens, nutrition professionals and public health experts – to understand the actions of major food and beverage manufacturers worldwide and act as a best-practice guide.
It enables a systematic assessment of all companies' strategic commitments, product formulation and marketing, accessibility and affordability of products, support for employees and supply chain partners, and whether, during the crisis, baby-food manufacturers are marketing the products in line with the International Code of Marketing of Breast-milk Substitutes (BMS).
Outputs
The Framework provides the basis for ATNI's analysis of the food and drink manufacturing sector throughout the Covid-19 crisis. ATNI reports findings in quarterly reports, with each report focusing on a specific aspect of the response, for example in a regional snapshot.
In addition, the structure established by the Framework will contribute an important extra layer to all of ATNI's products (including the Global Index and country Spotlights), for as long as Covid-19 and its repercussions continue: this is not a short-term addition to ATNI's work, but a longer term pivot towards the new normal, whatever form that takes.
As the crisis develops and new information emerges, ATNI is maintaining open and ongoing communication with relevant stakeholders, including the food and beverage manufacturers, to consider their main concerns and recommendations.
The aim is for the outputs of this project to be used as an accountability tool:
to examine and better understand the role of the private sector in light of the Covid-19 crisis and the global malnutrition context;
to inform existing monitoring/ accountability mechanisms to measure companies' contribution to food systems in crisis contexts such as Covid-19, and;
as a source of best-practice on which food and beverage companies and other nutrition stakeholders can draw.
In contrast to ATNI's other work, the project will not lead to a benchmark or Index nor will it provide a comprehensive overview of everything companies did or are doing in response to Covid-19. Instead, it is an instrument that will give ATNI and other stakeholders insights into the reactions of the food industry, identifying areas to scale up and flagging areas of concern.

ATNI Covid-19 Framework
The Framework comprises indicators spanning eight categories, which have been adapted from the existing methodology for ATNI's Global Index, and draws on the international guidance that has rapidly emerged since the start of the Covid-19 pandemic. It takes a 'nutrition-sensitive' approach, to focus primarily on activities that address the immediate and underlying factors affecting nutrition outcomes, while going beyond in some categories to consider broader actions that influence the health and wellbeing of food systems and people everywhere.
This includes mitigating supply-chain disruptions, supporting small and medium-enterprises and donating or distributing personal protective equipment. As food and beverage companies continue to develop their responses to the crisis, this approach will enable ATNI and others to follow the ways in which activities and programmes inform companies' longer-term strategies and action.
The primary focus of the Framework will be the food and beverage companies that ATNI's Global and Spotlight Indexes have assessed: the world's 25 largest food and beverage manufacturers, and the 11 largest manufacturers in the United States and 16 in India. ATNI will also collate the actions by baby-food manufacturers, focusing on the 10 companies included in the forthcoming ATNI Global Index. Each of the total of 39 companies' websites will be monitored by ATNI's analysts using the indicators within the Covid-19 Framework and the companies will be encouraged to provide to ATNI further information on their Covid-19 response.
In addition, where resources permit and/or when selected third-party sources might point to strong cases by companies beyond the 39 manufacturers, action by other companies or country subsidiaries will be included, including an anticipated focus on key developing markets. ATNI has, since April 2020, been undertaking research into the impacts of Covid-19 to achieve this broader understanding of the actions of other food companies. This is more light touch, delving regularly into a wide variety of third-party sources.
Full ATNI Covid-19 Framework
Report 2: An acute response
ATNI published the second report in the Covid-19 Report series on World Food Day 2020 (16th October). The report presents unique and distinct findings that depict if and how food manufacturing companies' nutrition strategies and approaches have been adapted to the fast-changing Covid-19 realities over the first six months of the pandemic (to the end of August 2020).
The research highlights that companies have quickly responded to shocks along their supply chains and have adapted to rapidly changing consumer behaviours – for instance by expanding e-commerce platforms and setting up direct-to-consumer channels. Most Covid-19 responses by food and beverage companies, however, still appear as short-term, ad-hoc measures rather than long-term, targeted actions.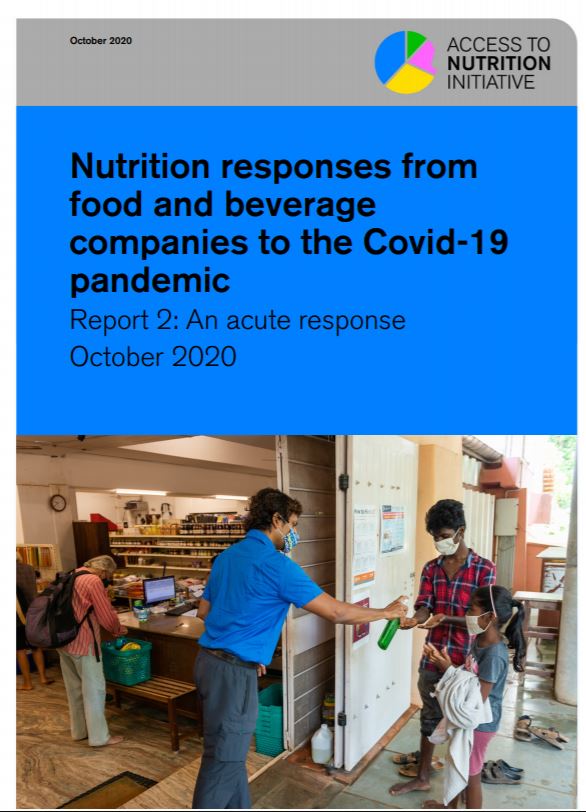 Key issues on which the report focuses
Consumer trends and the financial bottom line: There has been a dramatic shift in eating habits, particularly during lockdown, with a decline in eating out and takeaway and a move away from ready meals towards homecooked food, which played out in financial results of many companies. There is also increased consumer engagement on the benefits of good nutrition for individual health – for example, the perceived impact of certain product types (such as the dairy sector in Asia) in relation to immunity and Covid-19.
Strategic response: The companies' financial reporting demonstrates a rapid reaction to the Covid-19 crisis, but an explicitly nutrition-sensitive strategic response has been much less evident. Few of the companies analyzed by ATNI have seized the opportunity to convert their initial responses on issues such as employee health and donations – typical of the early stages of the pandemic – into longer-term, targeted actions. Most reporting is limited to short sections on websites and financial reports, but ATNI acknowledges that companies' interventions might have gone above and beyond the actions that have so far been publicly disclosed.
Health of the workforce: The food and beverage manufacturers in scope for this project employ over 2 million people worldwide. Employee safety is one of the most reported areas of corporate action in response to Covid-19, with about a third of the companies analyzed following good practice in publicly reporting on complying with national/international guidance in relationship to Covid-19 and the workplace. However, only a few companies were found to reiterate or enhance existing commitments to support parents and breastfeeding mothers in the workplace. Overall, it is not yet clear how long-lasting support for employees will be, particularly for frontline workers – for example, whether it will lead to improved pay and other standards over time.
Resilience in the value chain: Covid-19 has put the value chains of the food manufacturers under very significant strain, but the impact for food systems has not fallen equally worldwide and in some regions supply chains have regained their resilience. Companies have published a range of initiatives to support small and medium-sized (SME) suppliers and smallholders, who need particular support during the crisis and beyond. Were all the major food manufacturers to roll these out globally, this would be likely to make a very significant difference to the ability of the value chain to withstand future shocks. However, there has sometimes been a lack of update on these schemes, and often with no indication of their duration.
Donations: Donations – both financial and in-kind – stood out as being a frequent (and frequently reported) aspect of companies' response. Where donations are of products, it is often not clear whether these are of nutritious products. It is also often unclear how much has been donated (and amounts vary widely), whether donations have been topped up over time, or what has been the impact of the donations on the recipient communities. ATNI would welcome a structured approach to reporting on donations, which places sustainable and healthy diets at its heart.
E-commerce: There has been a rapid shift towards e-commerce that has pushed food and beverage manufacturers to respond in innovative ways, but these do not seem to place particular focus on using e-commerce specifically to improve access to nutritious or healthy foods (for example, by prioritizing healthy products through the new direct-to-consumer delivery channels that have been established for some brands).
Responsible marketing: Lockdown may have served to accelerate the already significant shift from traditional forms of advertising to online marketing – the impacts of which on children are much more challenging to understand, trace and regulate. Only one company has explicitly reiterated its commitment to responsible marketing to children during the pandemic.
Fortification, immunity and the product mix: Asia, in particular, has seen a big surge of interest in products that are alleged to improve resilience, for instance dairy products and curcumin. Caution is strongly urged about any health claims made relating to Covid-19, as these can easily be deceptive.
Engagement: There are examples of food companies influencing governments in keeping their operations and supply chains moving during lockdown, but it is less clear whether, overall, companies' approach to engagement with governments had an impact on nutrition-related policy; companies must commit to lobby on nutrition issues only in support of public health. Some companies have implemented their own Covid-19 education and public awareness programs and established new partnerships with government authorities, local and international NGOs, but it is not yet clear how this engagement will play out in the longer term.
Infant and young child nutrition (including breast-milk substitutes): ATNI's research found that none of the companies' websites include an explicit statement of continued commitment to the International Code of Marketing of Breast-Milk Substitutes within the context of the Covid-19 crisis – although the need for compliance is as important as ever, as breastfeeding support services have been disrupted. Some companies state that their products are safe, and that breastfeeding remains safe if precautions are taken to avoid infection, but most do not emphasize that breastfeeding remains best despite the pandemic.
ATNI welcomes suggestions from readers of the current report as to which aspects of the food industry's response to Covid-19 would benefit from further analysis. Please contact Fiona Kirk (fiona.kirk@accesstonutrition.org) with any feedback, or if you require any communications support around this publication.