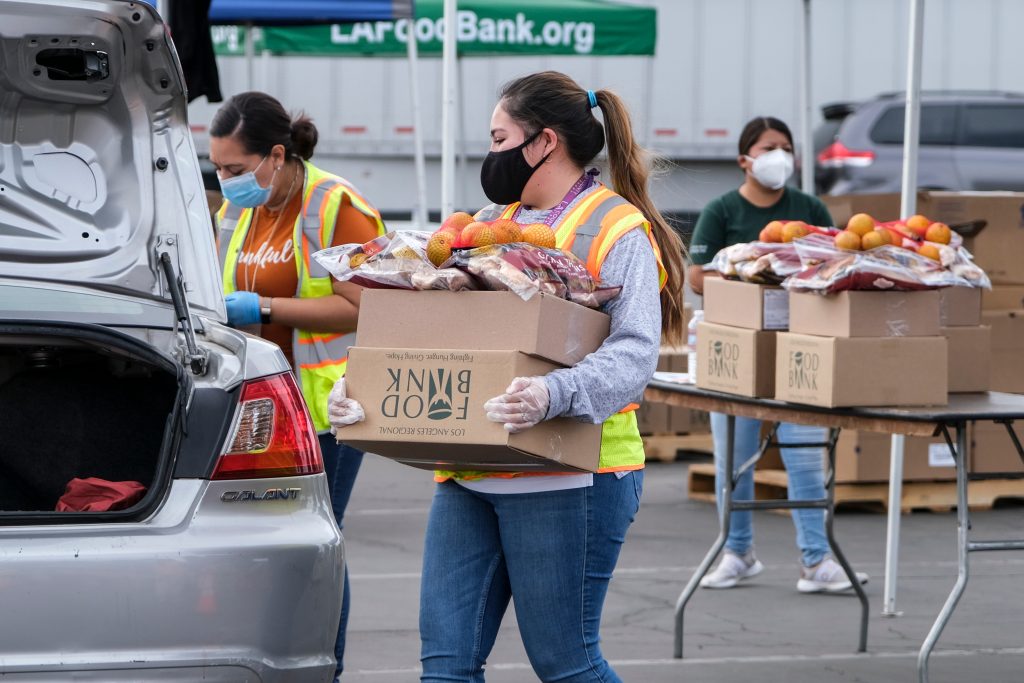 What role can the food and beverage industry play in transforming food systems?
3 August 2021
Nutritious food is vital to all aspects of life. It keeps us healthy and helps us reach our potential. It also strengthens our communities and powers our economies. Increasing the availability of nutritious food, making it more affordable and reducing inequities in access to food is crucial for our future. That is why the UN Secretary-General called for the historic, first ever Food Systems Summit this year. This Summit aims to bring together all actors of the food system, including civil society, non-profits and NGOs, farmers, governments, research, and private organizations, to carve a path to a world where good food for all is a reality.
The food and beverage industry plays an important role in achieving this goal. With a retail value of nearly US$2.5 trillion in 2020, the reach and market penetration of the packaged foods industry extends globally. In addition, the rapid expansion of the industry in emerging markets in the Asia-Pacific, Latin America, and Middle East and Africa regions – which represent the main drivers of growth for the industry– presents the opportunity and responsibility to reach populations that may be experiencing or are at risk of experiencing malnutrition in low- and middle-income countries.
COVID-19 has disproportionately affected these populations. Low-income and marginalized populations have borne a greater burden of the virus due to income, health, occupational, ethnic, and other forms of intersecting inequities. This has resulted in dramatic repercussions on nutrition globally. 'After remaining virtually unchanged for five years, the prevalence of undernourishment increased 1.5 percentage points in just one year (2020)– reaching a level of around 9.9 percent, heightening the challenge of achieving the Zero Hunger target by 2030.
Compared with 2019, about 46 million more people in Africa, 57 million more in Asia, and about 14 million more in Latin America and the Caribbean were affected by hunger in 2020'.
ATNI's mission, to develop and deliver tools that track the contribution of the food and beverage sector to addressing global nutrition challenges, is central to addressing the global nutrition crisis, during and beyond the pandemic. ATNI's COVID-19 report series was developed to monitor nutrition-sensitive responses to the COVID-19 pandemic by food and beverage manufacturers globally. It highlighted that COVID-19 pandemic is accelerating the increase in the demand of healthier products: affluent consumers are becoming increasingly engaged with nutrition and their wellbeing. On the other hand, the pandemic is resulting in reduced access to healthy and nutritious foods for poorer populations and, in some cases, to increased demand for less healthy food products such as snacks and comfort foods.
This week, ATNI published the fourth report in this series which returns to the 39 food and beverage companies (previously assessed in the second report) to see the development of their response beyond the immediate crisis of the first few months and highlights new trends such as increasing concerns around inequity in the food system and issues such as vaccination priority. The report also outlines immediate required nutrition responses by food companies to the pandemic (see figure below) and longer term recommendations for food companies to ensure their response to the pandemic continues to provide good nutrition for all.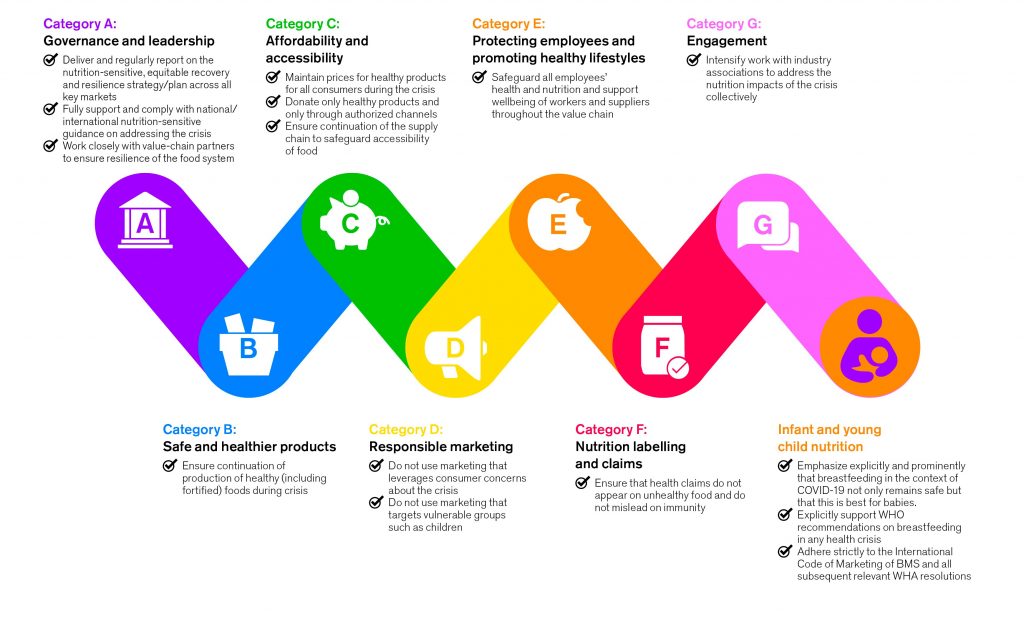 Recommendations from the report include:
Governance and leadership: To begin with, it is important that companies place nutrition at the heart of their strategic response to the pandemic. Developing a strategy and plan, that includes creating a healthier food environment and that supports the whole value chain in all key markets will both hasten a healthy recovery and improve pandemic preparedness and resilience into the future.
Healthier products, labeling and claims: We found that there has been a rapid increase in interest among consumers for products that claim to maintain a healthy immune system, and this has continued, with many new products coming to markets. Companies should ensure that all health claims are firmly evidence-based and do not appear on unhealthy foods. Fortification to address malnutrition is as important as ever, but our research found little evidence of companies committing to scaling up resources for fortification to ensure that populations at risk of experiencing malnutrition receive good nutrition during the pandemic.
Affordability and accessibility: We found few commitments by companies to ensuring widescale affordability or accessibility of healthy food during the crisis, other than through donations. Companies should consider going beyond donations to commit to ongoing affordability and accessibility of healthy products for the whole population.
Responsible marketing: It was immediately evident in our research that marketing campaigns were shifting to the new reality of life in lockdown, focusing on online campaigns and with some evidence that advertising leveraged consumer concerns about the pandemic. Responsible marketing should be more, not less, of a priority during a crisis – particularly for vulnerable groups and for children, who spend so much more time online during lockdown than before.
Protecting employees and promoting healthy lifestyles: Initially companies focused on provision of protective equipment and on basic (but temporary) financial protection for their employees. In recent months, companies have placed a greater focus on mental health and on employee vaccination. We recommend that actions taken by companies should be country-specific, with regular reporting on longer-term efforts made to support health and nutrition in the workplace. This support for health and nutrition should be provided more widely across the value chain, particularly to SMEs that are such a crucial part of the resilience of the supply chain.
Engagement: Our research found several examples of individual company and industry association lobbying of government on COVID-19-related issues, such as vaccination prioritization for the food sector. Any lobbying on nutrition and food issues should only be in support of measures that are beneficial for wider public health.
Infant and young child nutrition: In the early days of the pandemic, there was initial uncertainty – rapidly quelled – about the safety of breastfeeding, but many companies have not clearly and explicitly restated that breastfeeding remains best for babies in the current context. Additionally, concerns were almost immediately raised by NGOs that the International Code of Marketing of Breast-milk Substitutions was being violated. All companies should reiterate commitment to The Code and follow this up with action.
These are a few ways through which the food and beverage industry could make it easier for people to buy and eat healthy food and play a significant role in addressing health inequities. Food and beverage companies have a significant impact on food value chains globally which grant them an important voice in the food systems discussion.
Now, more than ever, the food industry and all nutrition stakeholders need to use this voice to step up their contributions towards building a sustainable food system and promote good nutrition for all.