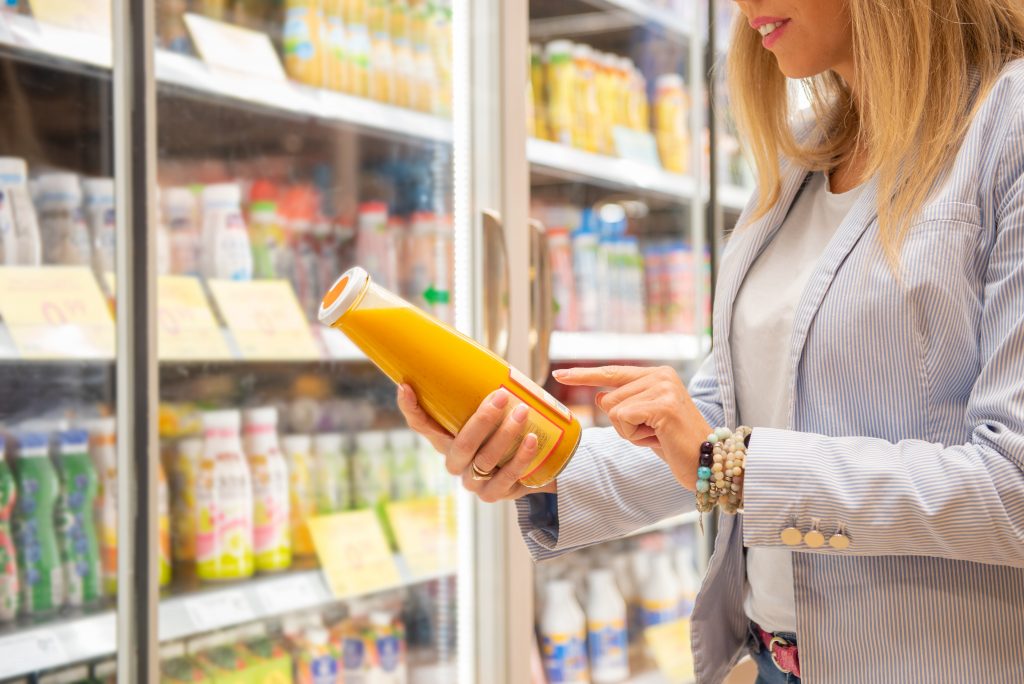 Improving private sector accountability for nutrition through aligned business reporting
26 August 2021
By Estefania Marti Malvido
With their reach, expertise and influence, food businesses have the responsibility and a unique opportunity to improve their impacts on nutrition and health. A webinar on July 20th was organized by the Global Alliance for Improved Nutrition (GAIN), the Access to Nutrition Initiative (ATNI), the Consumer Goods Forum (CGF) and Nutrition Connect, to discuss existing business reporting frameworks, and how aligned reporting could work as a powerful tool to improve private sector accountability. 
In September this year, the UN Food Systems Summit is being held to transform the way the world currently produces and consumes food. GAIN's Director of Policy and External Relations Steve Godfrey said there is no better time to discuss the way we are measuring performance in making food systems more impactful for better nutrition. "When we think about how to improve our food system, we not only think about bringing healthier food to people, but also trying to curb foods which contribute to poor diets." 
Key messages
In the last decade there has been a growth of accountability mechanisms looking at businesses impact on nutrition. Companies, investors, and other interested parties need alignment and standardization to be able to objectively assess progress, filter information and efficiently prioritize key actions for better nutrition.  
ATNI has participated in the consultative process organized by GAIN to understand the current landscape of business accountability in nutrition and improve the effectiveness of existing initiatives. With the objective of aligning business reporting to facilitate the understanding and comparison of business impact in nutrition, GAIN focused its consultations on existing reporting tools and frameworks in six nutrition-related areas: product (re)formulation, marketing to children, labeling, workforce nutrition, food safety and food loss and waste. Aligning reporting on nutrition can make information more accessible, credible, and potentially easier to compare across companies, countries, products or portfolios, said GAIN's consultant Laurene Aubert.  
Marije Boomsma, Program Director at ATNI, explained how ATNI bases its research frameworks, as much as possible, on independent standards and (inter-)national guidance.  As such, ATNI is assessing companies' commitments and actions to contribute to the WHO Global Action Plan for the Prevention and Control of Noncommunicable diseases, the Sustainable Development Goals (SDGs) and benchmarks it against specific international standards for example on products' nutritional quality, responsible marketing, labeling and lobbying. To assess the marketing practices of baby food manufacturers, ATNI reviews alignment to the WHO International Code of Marketing of Breastmilk Substitutes and subsequent resolutions. The first Global Access to Nutrition Index was published in 2013 and the fourth on July 1 this year. For the first time, a separate Breast Milk Substitutes and Complementary Foods Marketing Index was launched by ATNI in 2021.  
Over time, the Indexes have clearly demonstrated what companies do and what they do not do, or not enough of, to improve nutrition. The most recent Global Index shows that while some of the 25 largest food and beverage manufacturers have shown significant progress since 2018, on average, the industry has only made small improvements and the rate of progress from the top 10 ranking companies is slowing down. Improved transparency and reporting would help to better track companies' nutrition commitments and performance.
To ensure that transparency and scrutiny over business impact on nutrition goes beyond assessing the largest food manufacturers, ATNI has developed national indexes, is including retailers in its research (starting in the UK) and is piloting with GAIN a tool to enable SMEs in low- and middle-income countries to self-assess their impact. These build on the methodology of the ATNI global index, illustrating how reporting can to some extent be consistent when assessing businesses of various sizes operating in different contexts. 
By sharing credible, comparable, quality data on their nutrition-related impact, companies will respond to investors' growing interest in companies' response to global nutrition challenges and capacity to deliver on the SDGs. These expectations have been described and released in June 2020 by ATNI – in collaboration with investors.   
Aligned nutrition reporting is a prerequisite to ensure commitments and performance can be compared and progress can be measured over time. 
"One of the core principles of the WBA is aligning with exiting initiatives and reporting frameworks" said Sara Posa, Research Analyst at the World Benchmarking Alliance (WBA). While WBA's Food and Agriculture benchmark will be published in September 2021 during the Food Systems Summit, a baseline assessment released at the end of 2020 revealed that the majority of 350 food and agriculture companies lack a nutrition strategy and struggle to identify how they can contribute to nutrition and health. "We [WBA] see a lack of understanding on some nutrition issues by companies, specifically on what kind of data or information they should disclose." WBA explains in a recent blogpost how it is building on existing efforts to align business reporting in nutrition within its methodology to support consistent nutrition reporting requirements towards business.  
The business association Consumer Goods Forum (CGF) has launched different initiatives to improve its members' reporting on nutrition. The food loss and waste coalition was created to move faster, have sharper commitments and improve reporting on this issue said Sharon Bligh, Healthier Lives Director from the CGF. The Workforce Nutrition Alliance has set up a self-assessment tool for companies to evaluate how they can improve nutrition in the workplace.  
All speakers emphasized that to achieve aligned business reporting on nutrition a multi-stakeholder approach is required. For example, business associations are partnering with academia to evaluate some of their initiatives' impact. Businesses can use tools developed by the public sector or business associations, such as the Global Food Safety Initiative (GFSI). It is important, however, that these are consistent with national and international guidance, with external auditing in place (e.g. for its Global Index, ATNI requests food manufacturers to conduct external audits for their marketing to children policies). 
For better nutrition, we need companies to ensure progress is independently evaluated and corrective action instruments are in place. 
Conclusion: aligned reporting, improved trust
The COVID-19 pandemic and related shocks have highlighted the food industry's crucial role in ensuring that healthy and sustainable food continues to be made affordable and accessible to everyone. Therefore, the need for transparency, leadership, and accountability in nutrition and businesses is more important than ever. Companies need to step up their efforts and structurally include nutrition in their long-term strategies and plans, and ensure regular, transparent and comprehensive reporting on both nutrition specific and nutrition-sensitive responses to COVID-19 in all their markets. ATNI's COVID-19 project in which the food industry has been monitored on their responses to COVID-19 since April 2020, revealed that companies COVID-19 nutrition-related reporting has been largely focused on the global/headquarter level, with little transparency on action at the local/national level.  
"Norms and standards around food systems and nutrition are moving very fast" concluded Steve Godfrey "and are already influencing actions on the ground." Commitments from all players, especially those involved in the development of nutrition accountability tools, is needed to make impactful reporting part of the DNA of food systems transformation.