SOFI 2022 -Stakeholders Urgently Need to Tackle Global Hunger and Malnutrition
15 July 2022
On Wednesday, July 6, 2022, the FAO and other UN agencies launched the State of Food Security and Nutrition in the World (SOFI) 2022 report. The resounding message was clear: the world is not on track to achieve SDG2: Zero Hunger and SDG3: Good Health and Wellbeing by 2030. In fact, this year's report shows that we are moving backward.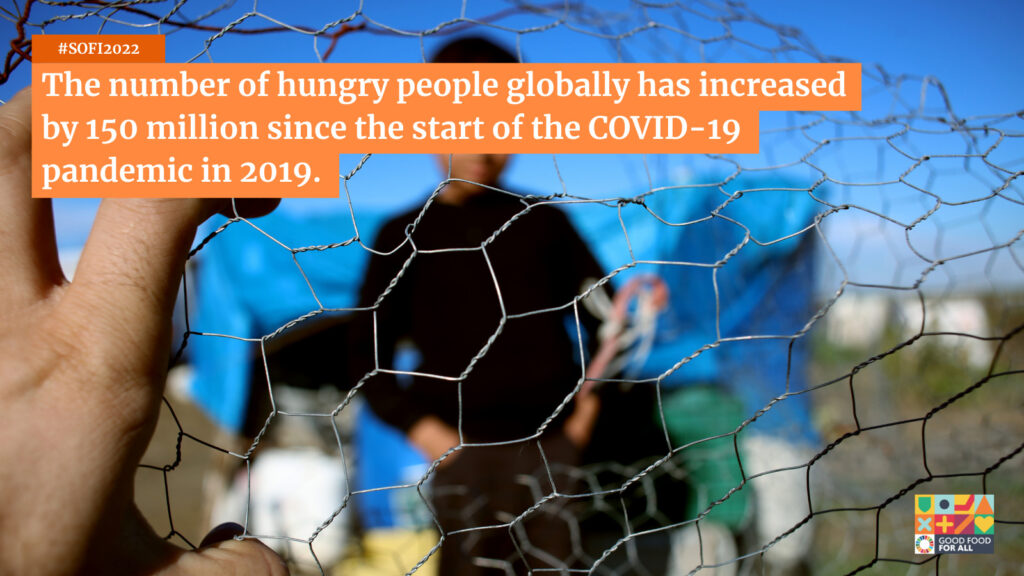 The effects of the ongoing COVID-19 pandemic, the war in Ukraine, and the current cost-of-living crisis have driven levels of hunger and malnutrition up. In 2021, 46 million more people were undernourished in 2021 than in 2020, bringing the total number up to an estimated 768 million people.
Further, a staggering 2.3 billion people did not have access to sufficient food. Yet, rising levels of obesity remain uncharted past 2016. SOFI 2022 reports that "globally, adult obesity nearly doubled…from 8.7 percent (343.1 million) in 2000 to 13.1 percent (675.7 million) in 2016."
Figures representative of the state of obesity in the world in 2022 are set to be released by the end of this year.
The report revealed that an estimated 112 million more people – 3.1 billion in total – are not able to afford a healthy diet. The high cost of a healthy diet put nutritious food out of reach for many in every region across the world, but this disproportionately affected people in Asia, Africa, and Latin America and the Caribbean.
Rising inequalities between countries and within countries due to the COVID-19 pandemic are featured in this year's report. Nowhere is this felt more prominently than in inequalities in access to food. Due to unequal access to nutritious food, women and children are more likely to be exposed to the triple burden of malnutrition: undernutrition, overweight and obesity, and micronutrient deficiency. Read ATNI's COVID-19 reports for further insights on how the pandemic affected the availability and affordability of healthy food for all.
The report states that "addressing inequalities will be essential to achieving the 2030 targets" and calls on stakeholders to identify contextualized inequalities to design strategies, policies, and programs aimed at vulnerable groups. Food & beverage companies can play a crucial role too, given their near-universal scope and reach. ATNI encourages the food & beverage sector to develop and implement commercial nutrition strategies that address the affordability and availability of healthy food to everyone, with a specific focus on priority populations.
Specifically, in the Global Index 2021, ATNI encourages food & beverage manufacturers to:
Use objective nutrition criteria based on internationally recognized standards to determine whether a product is healthy.
Develop a policy to address the affordability and accessibility of healthy products, with strong public commitments that translate into a clear action plan. The policy should apply to all markets the company operates in; and include a focus on products specifically designed to address the needs of priority populations at risk of malnutrition, including micronutrient deficiencies and/or on low incomes.
Set concrete SMART pricing and distribution targets to reach consumers with healthy products across all markets they are active in to bridge the affordability gap and make healthier, nutritious products more available and affordable relative to less healthier varieties.
Conduct periodic/regular country-level pricing and distribution analysis to identify and address the unmet needs of consumers with low incomes and based in remote, inaccessible locations.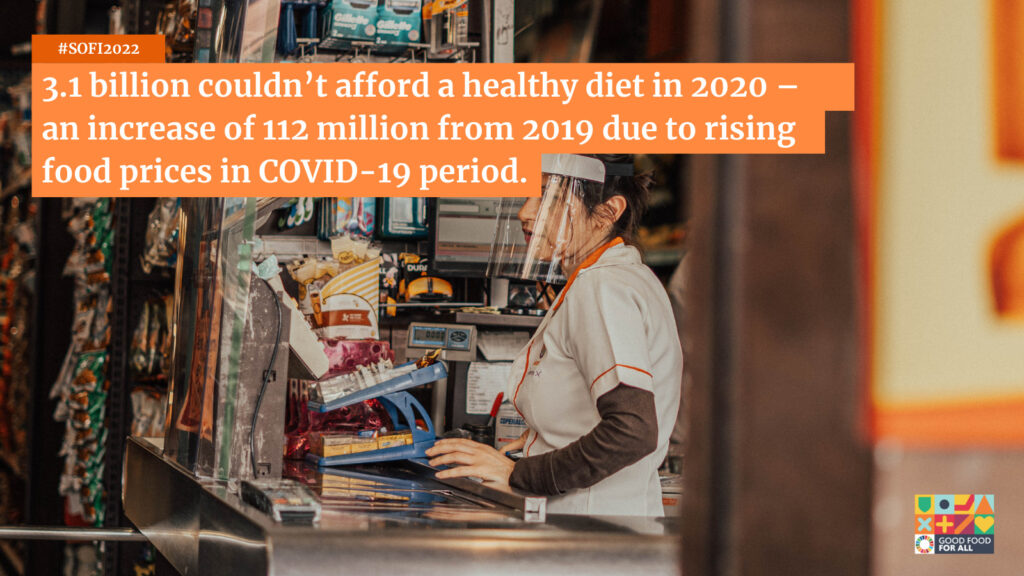 If you would like to know what food & beverage companies are doing to address the affordability of healthy foods, read the Category C: Accessibility and Affordability of the Global index 2021.
*  imagery made available by SDG2 Advocacy Hub